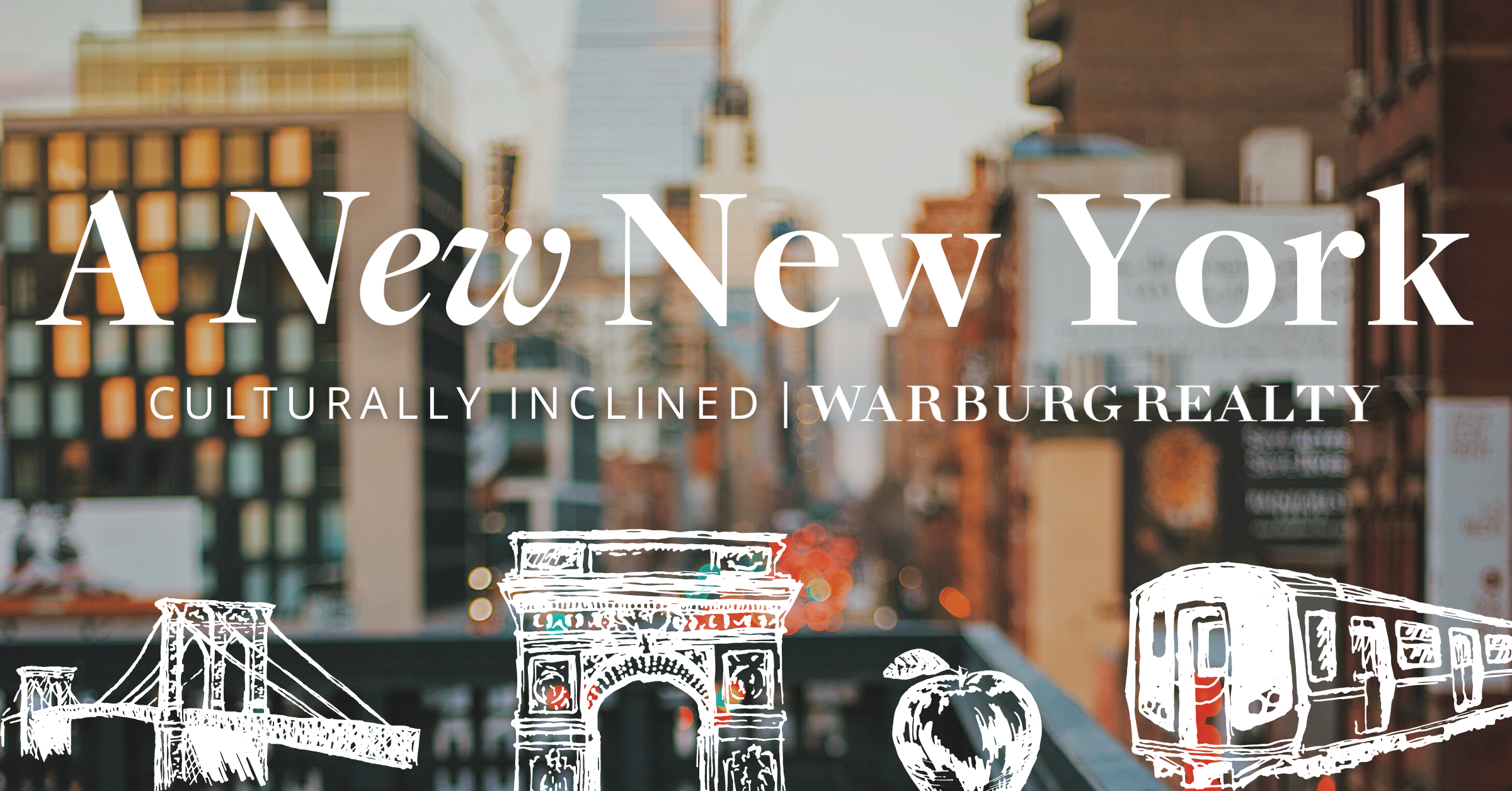 A "New" New York
In the span of 100+ days, New Yorkers banded together (while staying 6 feet apart) to change our behaviors and slow the spread of COVID-19. We are so proud of our city and we remain New York tough: smart, resourceful, and united. In "New" New York the bar is high for what it means to be resilient.
During this period, we have also witnessed the power of education and actionable advocacy. To effectively address longstanding issues of race and inequality, in our neighborhoods and on the world stage.
Culturally Inclined Edition
The A "New" New York" edition of Culturally Inclined, explores how to re-engage with our city this summer both culturally and gastronomically as Phase 3 and 4 of reopening begins. Additionally, A "New" New York provides an update on the local real estate market. As well as, shares ways to continue to be actively informed participant in the global movement towards racial justice.
As always, I am here to answer any real estate questions you might have. After all, it is always a delight to simply catch up over the phone for a socially distant coffee/tea date.
Quote
"The magic thing about home is that it feels good to leave, and it feels even better to come back." – Wendy Wunder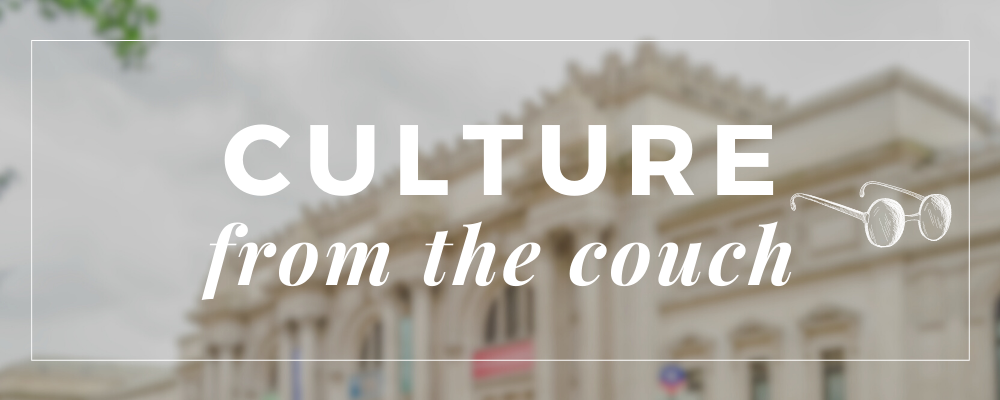 Culture From the Couch
Remain cultured from the comfort of home through the Virtual NYC Curator Collection. Made available by NYC Go, the official center of all things New York, tourism, and culture. This list features hundreds of virtual experiences from New York City attractions, art institutions, and entertainment venues.
Not to mention, special collections are curated by some of the city's leading intellectuals. From The Met to the MoMA, the Brooklyn Academy of Music and Wildlife Conservation Society, and more. In fact, these handpicked recommendations showcase the best cultural influencers the five boroughs have to offer.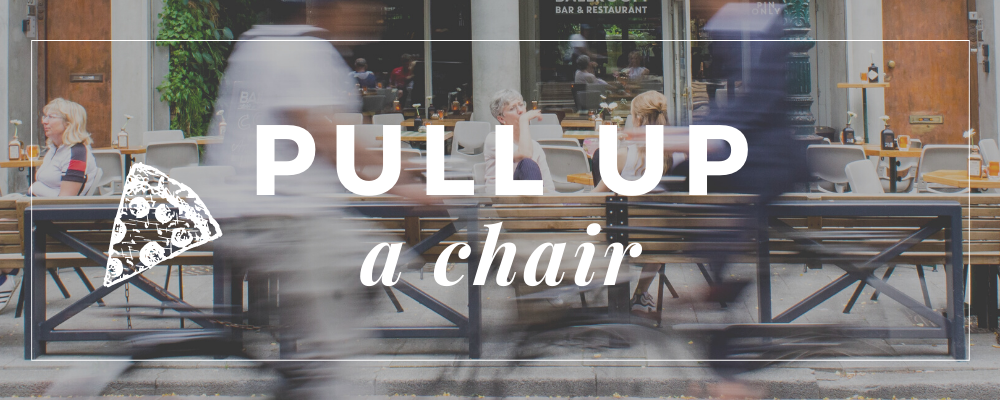 Pull Up A Chair
From small cafes to popular food groups, New York City's dining scene is just one industry that contributes to the remarkable cultural fabric of this city. Consequently, attracting both locals and tourists alike. The restaurant industry is one of the most impacted, as it is estimated that nearly 5.9 million restaurant jobs have been affected.
Two Restaurant Initiatives
Take action: Ask your local representative to sign the RESTAURANT's Act, which will establish the $120 billion Independent Restaurant Revitalization Fund to help 11 million jobs stay intact and support over 500,000 independent restaurants.
Make a contribution: A donation will go towards the fight to save local, independent restaurants that have been affected.
Outdoor Dining
You can also show support restaurants by grabbing a table outdoors. To allow more restaurants to expand onto sidewalks and streets the City recently designated 22 blocks (with more to be added) throughout the five boroughs that are closed to cars on weekends through August. Accordingly, check out
TimeOut New York's guide
for the best al fresco dining options popping up outside this summer.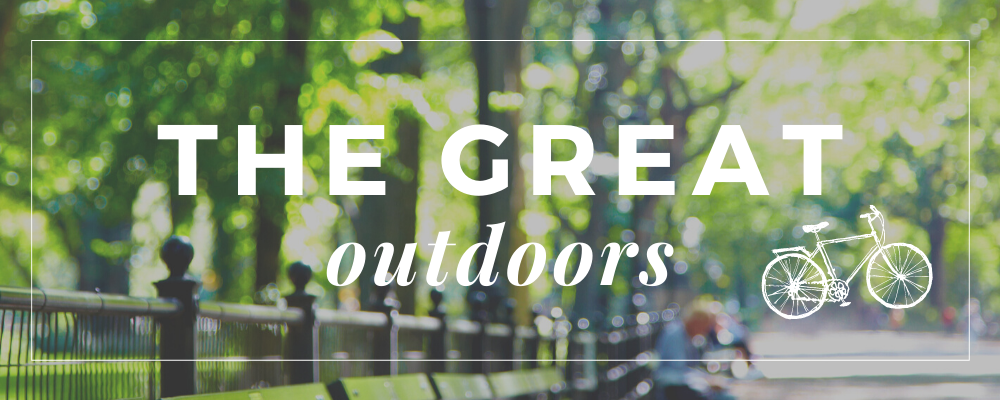 The Great Outdoors
The Great Central Park's 843 acres are a respite for all New Yorkers during this time. The park remains open to the public with diligent cleaning and routine maintenance processes. Keep in mind, while independent exercise is permitted; "team sports" are not currently allowed.
Staying Connected from Home: "Summer Guide"
Stay connected to the Park virtually by downloading the official summer guide which highlights insider insights on the Park's majestic trees, provides a peek into the Park's history, details on the Mall's newest monument, and a description about the season's brightest blooms.
Bring the park to your next Zoom: Bring the calming nature of Central Park's beautiful and expansive backdrops to your next Zoom meeting, digitally! Download free backgrounds ranging from Azaleas to the lake, Midtown skyline, and more.
Activities for kids: the names of popular spring blooms that can be found in Central Park, play jigsaw puzzles online, let your inner artist shine by downloading copies of coloring pages, and measure your knowledge by putting your skills to the test by taking the Central Park quiz.
Bryant Park Outdoor Programs
Bryant Park is a year-round destination known for winter markets, lush seasonal gardens, and summer yoga classes. In the meantime, Bryant Park's program partners
are now sharing their talents online.
From 305 Fitness to ballet, piano to poetry, and science to art and history, this online calendar will help you stay connected to the heart and soul of what makes Bryant Park a beloved attraction. Be sure to follow their Instagram handle,
@BryantPark,
to stay up-to-date.
Furthermore, Beaches are also officially open including Rockaway Beach, Coney Island, Brighton Beach, and more.
Here's a list
from NYC.gov on all beach statuses and locations where you can get your daily dose of Vitamin C.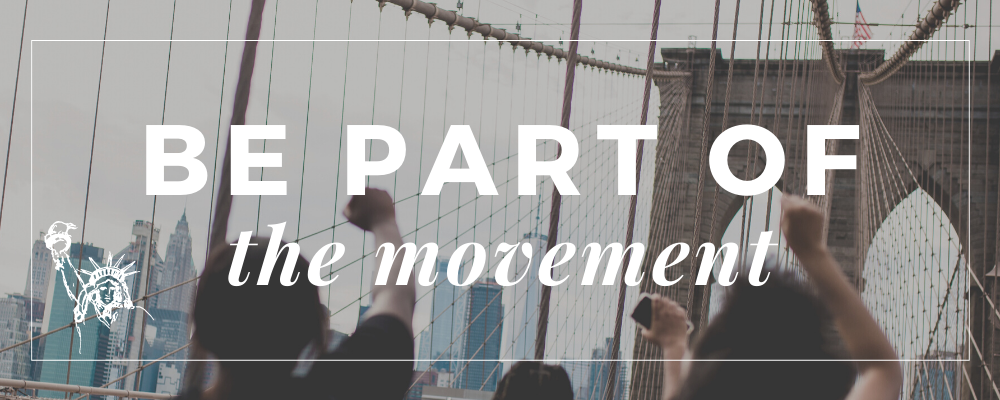 Be Part Of The Movement
Born as a hashtag in Summer 2013, Black Lives Matter has exploded into a worldwide activist movement in cities, states, and countries around the globe. Lasting diversity and equality begin through:
education,
supporting black-owned businesses, and
financial contributions.
Here are some ways to show support for long-term success:
Education: Access Tools and Resources
Access to tools and resources that support anti-racist action, racial identity development, and critical consciousness for families, parents, and educators is imperative. Accordingly, these tools and resources are an important step to be able to listen and contribute to the larger conversation in a thoughtful manner.
Here is a list of articles and resources on racism, blackness in America, police violence, books, and more.
The New York Times also compiled this collection of books to educate conversations on race, racism, and resistance.
Support Black-Owned Businesses
Supporting black black-owned businesses is a simple way to make a positive impact. Thus, to keep people employed, help retain health insurance, and ensure these businesses are around for years to come. Black-Owned Brooklyn is a community-rooted publication documenting the people, places, and products of Brooklyn. The spectrum covers topics such as food and drink, history and culture, home and design, style and beauty, health, and wellness. Moreover, Black-Owned Brooklyn is a central guide for you to learn and read about the people behind the brands.
Nationally, Support Black Owned is an online directory where you can search thousands of black-owned businesses across the country in different industries. Furthermore, Black Parade, organized by Beyonce, is a directory of Black-Owned businesses to browse and support.
Contribute to the Cause
Financial Contribution: Vox recently published a guide to effectively support national and regional organizations through donations like: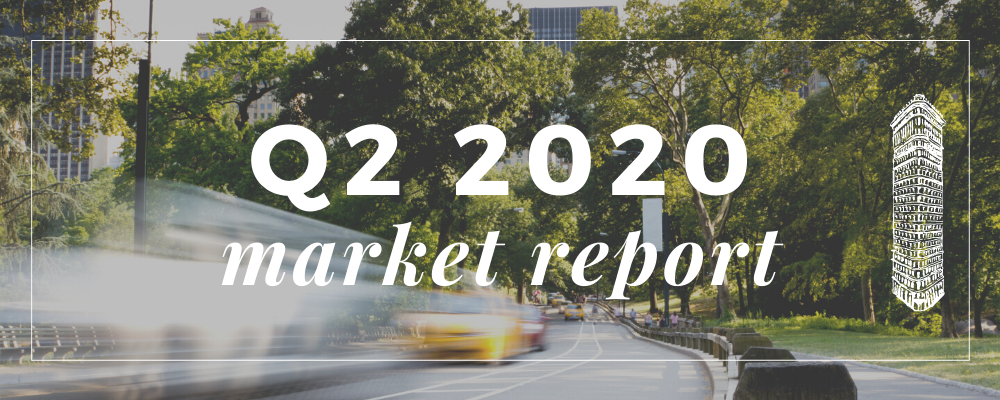 Q2 2020 Market Report
New York City has entered week one of Phase Three and with it, post-pandemic real estate reawakening. There already seem to be some winners. Numerous properties in the $2 million and under range are snapped up immediately. Not lasting more than 48 hours on the market. And for the one-bedroom units under $1 million (not to mention the rare two-bedroom in that price range). There is strong activity. Agents report booking numerous appointments to show. While inventory remains high and many new listings added every day into the mix. This segment of the market will clearly continue to recover quickly. Read Warburg's full Q2 2020 Market Report on Forbes here.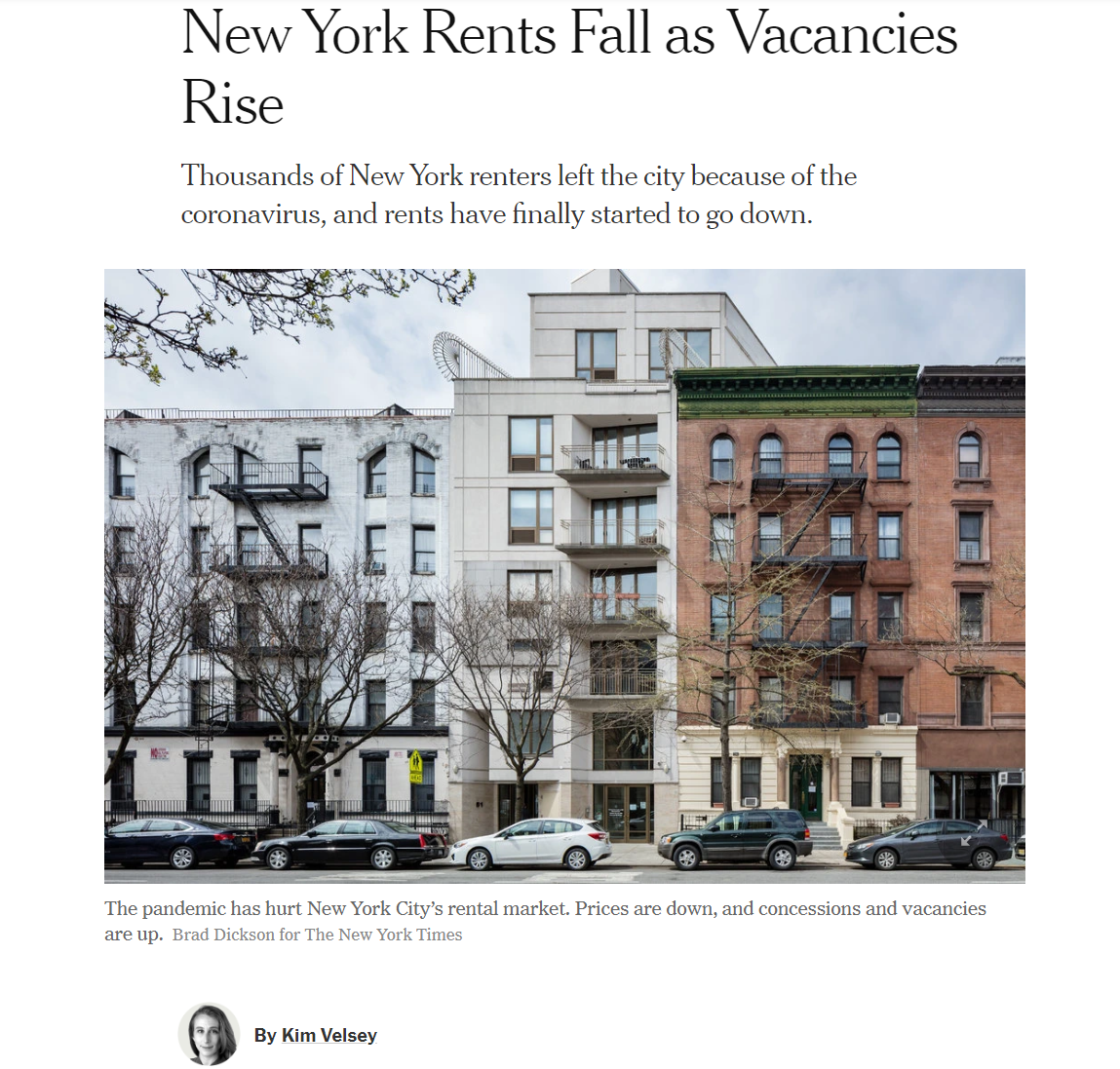 New York Rents Fall as Vacancies Rise
"It's certainly not a strong or normal market by any stretch of the imagination. Prices are falling. Concessions are rising. The number of concessions is rising," said Mr. Miller. "Everything is weakening. In many ways I think the rental market could be hit way bigger than the sales market."
To begin with, as of July 15th, there were 19,800 active rentals on the market and 14,000 of those had a concession. "But the latest numbers show that vacancy rates are now at 3.67 percent compared to 1.61 percent in June 2019. Furthermore, Manhattan median rental prices, meanwhile, dipped 4.8 percent compared to June of last year, to $3,378 a month, wiping out the increases of the last few years."
Click on the Link to Read the Entire NYTimes article.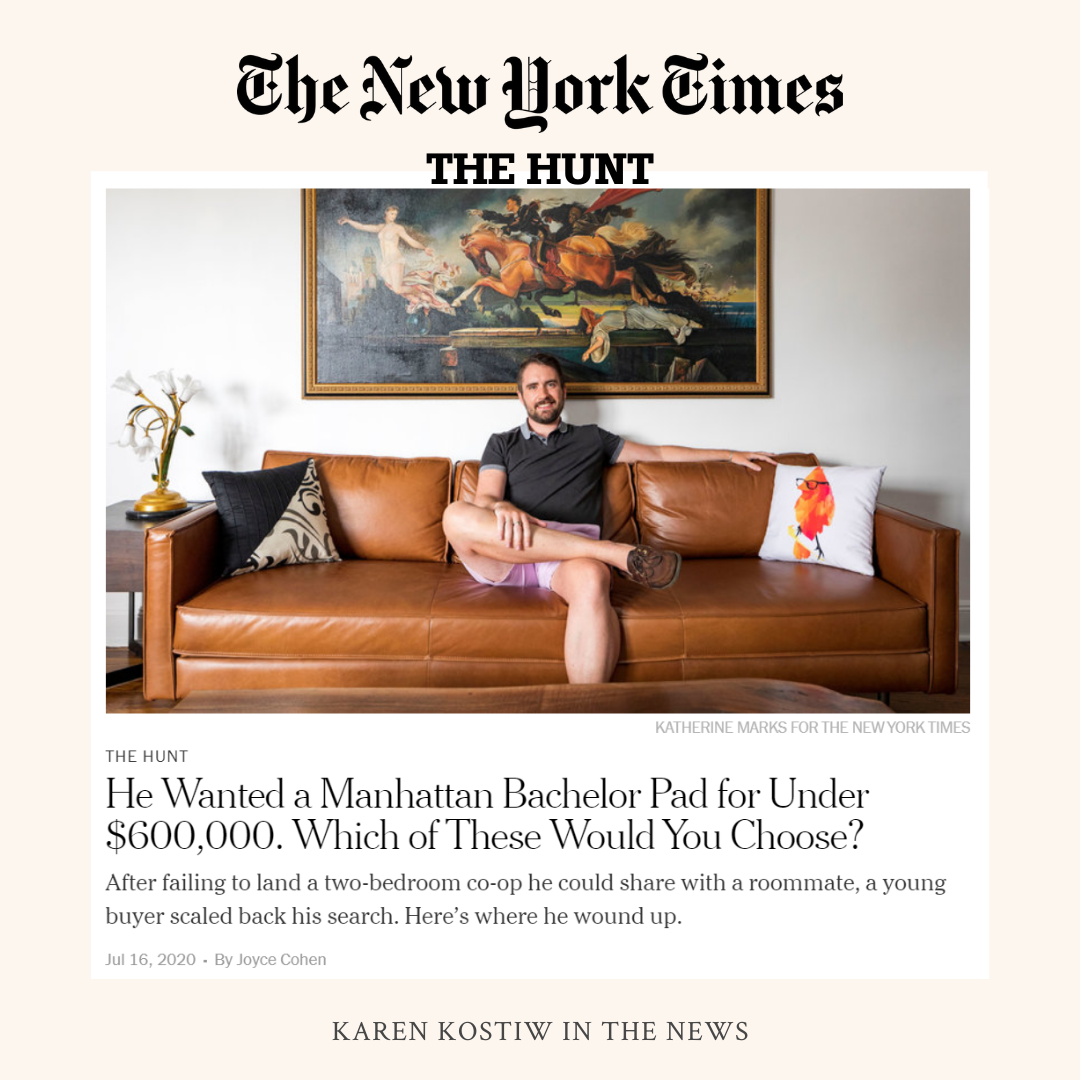 New York Times "In The Hunt"
My client's story about searching for a home in Manhattan featured in the NYTimes "In The Hunt" column by Joyce Cohen. Read about and interactively participate in his journey to find out, which home he chooses.
Furthermore, one particular apartment was not transparent with some of the issues. "In these old buildings, you don't know what other problems will come up once they start opening walls. " Warburg's own Karen Kostiw helped journalist Eric Hagstrom in his search for the perfect 2 bedroom apartment. Joyce Cohen of The New York Times talked with Kostiw about his search for "The Hunt" column. Additionally, my client's Erica and JB Reefer were also featured previously in the column; click on the link to read their story too.
Click on the Link to Read the Entire NYTimes Article "In the Hunt"
Special Thanks to David Rodriguez of Bank of America and Jennifer Weisser at Chaves Perlowitz Luftig LLP
A "New" New York
Culturally Inclined in our "New" New York edition calls attention to being open to awareness, interest, and practices that are related to cultural activities within our multicultured ever-evolving City. Notably, as Molly Jong-Fast reports in the Atlantic "The obituary of New York City has been written more than once and it's always been proven incorrect," the head of the Real Estate Board of New York, James Whelan, told the Times in April. Whelan has a horse in this race. Namely, New York City's most expensive asset: it's land. Still, predicting the end of New York is so common, it's practically a literary genre (one that never seems to have the ring of truth)…"New York won't be what it was, but New York is never what it was. Maybe the new New York will be a better place."
Warburg Way
The Warburg Way is best encapsulated in Fred's blog article "At Your Serve".