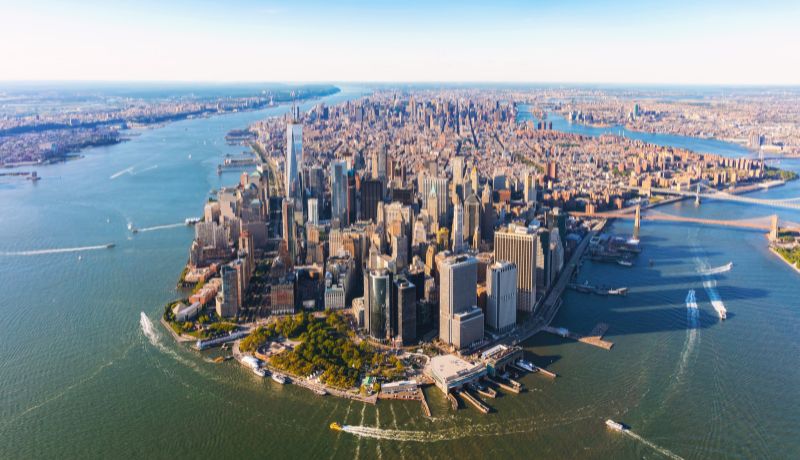 Coldwell Banker Warburg is Manhattan's leading residential real estate brokerage. In 2021, it became the first company to be fully branded under Coldwell BankerGlobal Luxury®, part of Coldwell Banker, one of North America's oldest and most established residential real estate leaders. The legacy firms boast over two centuries of collective experience, offering agents and clients a global network of resources, marketing power, and international presence.
Coldwell Banker Global Luxury brand is synonymous with a gold standard of service and integrity. and offering state-of-the-art resources, including technology, marketing, and financing, supported by a worldwide portfolio of Global Luxury Property Specialists stationed all over the globe. The Coldwell Banker global network compromises over 100,000 agents in 45 countries worldwide, providing extraordinary representation that crosses oceans, continents, and language barriers.
Reuveni operates in partnership with Coldwell Banker Warburg. REUVENI Development Marketing was founded by industry expert Shlomi Reuveni. The firm focuses on the sales and marketing of conversion and ground-up new development projects. With more than 30 years of real estate experience and an impeccable reputation, Reuveni has collaborated with the esteemed New York City real estate brokerage community, developer clients, and industry professionals. Shlomi Reuveni is known industrywide for his hands-on approach. He has been the driving force behind the design, predevelopment planning, marketing, and sales process of over $3 billion in conversion and ground-up new development projects.
New Development Registration
As your "buyers" agent, it is procedural that I accompany you for onsite registration and all future visits to the showroom unless I can receive accommodation from the sales office otherwise.
Following a specific timeframe set by the sales office, I must re-register you if you remain interested in the development.
Every buyer has a 7-10 day right of rescission after signing a new development contract.
Sales Offices may or may not provide a customer with the Offering Plan before making an offer.
TitleVest and other sites may or may not have electronic copies of the offering plan. In some instances, the Management Office may request an offering plan and amendments for a certain fee. Prices vary between companies, typically between $150-250, but I have seen as high as $450.
Types of New Development
Ground-up: It usually takes 3 to 4 years to get to market
Rental to Condo Conversion: Quicker to market and usually has Certificate of Occupancy ("COO")
Income Restriction: Different income requirements (mid, high, and free-market units in the building
Pricing the Units
Sponsor release units in stages
The sponsor begins to market condo units and enter contracts with purchasers upon the New York State Attorney General's Office ("NY AG") approving the offering plan. The building will be under construction when the NY AG approves the offering plan. Depending on the stage of construction, you may need to wait one or two years for the construction to be complete and for the buildings department to issue a Certificate of Occupancy. Furthermore, unit closings occur only after the NY AG declares the offering plan effective. An offering plan may be "declared effective" when the sponsor has entered contracts for at least 15% of the units.
The offering plan needs to be declared effective (15% of the total number of units in the building need to be sold to primary residents)
They will release units that will get them the 15%, and then they will increase the prices.
Prices will go up for the most popular unit in the building
Prices are not usually negotiated – you can try (varying factors: slow market, no demand for a particular line in the building etc.)
With a new development, there is no "bidding war" for a unit, but you can make an offer the sponsor can do a Price Amendment.
Higher Costs
Understand there are higher closing costs associated with new development. It's the purchaser's responsibility to pay (NY State and NY City transfer taxes)
Less than $500,000 – 1.425% of the purchase price
Greater than $500,000 – 1.825% of the purchase price
If two or more units are purchased – 2.65% of the purchase price; it is taxed as a commercial transaction
Sponsor Attorney: The purchasers are also responsible for this cost as well in addition to their own attorney cost
Two to four months of "common charges" are usually paid upfront for the reserve to cover the buildings start-up operation costs
Residence Manager (Super's Apartment) – Each of the unit owners contributes to paying the resident manager's apartment
The buildings insurance cost for the first year (in smaller buildings, unit owners pay a larger share of the cost)
Land Lease – Condop buildings require unit owners to pay a percentage share of the security deposit for the land lease
Making an Offer
Procedures to purchase in a New Development can vary from building to building. Generally, the initial deposit is 10% to 20% with the remainder due at closing. The initial deposit requirement may be a staggered payment schedule, as provided in the example below.
When you decide to purchase, the Sales Office will ask for contact information for you and your New York attorney.
You will be required to submit a non-refundable fee as a check made payable to the LLC to obtain a copy of the Offering Plan.
The Offering Plan and a certain number of copies of the Option Agreement will be sent to your attorney, who will generally be given five (5) business days upon receipt of the Option Agreement to review and return to the Sponsor the signed Option Agreement. Upon your approval, you will sign all four copies of the Option Agreement and return these to the Sponsor's Closing Agent along with an Initial Premium Payment equaling ten percent (10%) of the Purchase Price made payable to a specified escrow account.
An Additional Premium Payment of ten percent (10%) of the Purchase Price is due six (6) months after the date of the Option Agreement. An Additional Premium Payment of five (5%) is due six (6) months after the second Additional Premium Payment or (ii) thirty (30) days after Sponsor declares the Offering Plan effective. The balance of the Purchase Price is due and payable at closing.
Purchaser may elect to pay the entire 25% Premium Payment at the time of signing even if the Offering Plan has not yet been declared effective.
The Option Agreement will not be binding on the Sponsor until a Purchaser receives a copy of the Option Agreement executed by or on behalf of the Sponsor.
A description of estimated closing costs is outlined in the Offering Plan in the section entitled "Purchaser's Closing Costs." Purchaser is responsible for all closing costs, including but not limited to NYC & NYS Transfer Taxes, Mansion Tax where applicable, a proportionate share of Title Insurance Cost, Sponsor's Closing Agent Fees, filing fees, Working Capital contribution, and proportionate share of Resident Manager's Note, as well as the payment of Purchaser's own attorney and loan fees.
The Option Agreement is not contingent upon financing. However, there is no restriction on obtaining financing imposed by either the Sponsor or the Apartment Corporation.
Tax Benefits
New New York developments may qualify for a property tax benefit under section 421-a or other programs. Be clear on when these tax benefits expire.
Attorney General Guidance
The New York Attorney General "highly recommends that a prospective purchaser read the entire offering plan and consult with an attorney BEFORE signing a purchase agreement. The purchase of a unit in a cooperative or condominium has many significant legal and financial consequences. Prospective purchasers should consider the risks associated with purchasing a unit in a cooperative or condominium. In addition, to the extent that the sponsor or its representatives have made any material representations to the prospective purchaser that are not outlined in the purchase agreement or offering plan, prospective purchasers need to ensure that such representations are outlined in writing (e.g., a rider to the purchase agreement) between the prospective purchaser and sponsor."
Financing
Usually, the sponsor will have a list of approved banks and will require you to apply with one of them if you need a mortgage contingency.
You should be Pre-Approved, and fully underwritten 100% (Many Sponsors do not provide a mortgage financing contingency).
The mortgage lender has to approve the whole building in the case of a New Development, i.e., Lender A has ten apartments in one building; the 11th might be too much exposure.
Walk-through
The written list of defects produced in the walkthrough is known as a "punch list," and the builder must repair those defects before or after the closing of the title. If the work is to be done after the closing, the punch list and the builder's written commitment to correct the problems become part of the closing documents and should be expressly listed as surviving the closing. Sometimes the builder may take the position that a particular defect noted by the buyer, such as a small crack in a basement floor, is not a defect at all, in which case it is not inappropriate for the buyer to ask for a written statement from the sponsor's engineer or architect confirming that the defect is not significant.
The purchase agreement will state how often you may come back and check on the property.
Depending on sales office requirements, your agent may not attend the Walk-through. You should have a "Punch List" with the items to be completed before you move in.
Offering Plan
As a buyer, these sections are the most important
• Introduction
• Offering prices and related information of the Schedule A (stocks/shares and unit interest)
• Budget for the first year of condo operation/Schedule B
• Procedure to Purchase
• Closing of Title to Units
• Control by Sponsor
• Rights and obligations of condo board
• Rights and obligations of the unit owners
• Condo Bylaws
• Sponsor's Statement of Building condition
• Purchase Agreement – Purchasers will review and sign with their Attorney
Resales versus New Development Comparison
• New homes are built with new materials and appliances, so less maintenance is typically required than resale homes.
• They often have more safety features and fewer health hazards because they conform to today's building codes.
• The home's major appliances and systems also typically include manufacturers' warranties for the first year of ownership
• They typically feature modern architecture and layout, such as great rooms, more enormous closets, and additional bathrooms. They do not include the formal dining and/or living rooms of older homes.
• New homes usually are well-insulated due to better windows, more efficient heating and cooling equipment, and greater use of insulation.
• They're easier to customize than resale homes because you can choose many details upfront – from floor plans and paint colors to faucets and light fixtures.
• Open Floor Layout – Newer construction design creation is with modern families in mind. For instance, most have a family room adjacent to a spacious kitchen to accommodate the need for one large room where families can spend time together.
• New homes are more likely to be wired with new technologies in mind, such as multiple phone lines, high-speed internet connections, and extra cable outlets.
• The homes are more likely to be wired with new technologies in mind, such as multiple phone lines, high-speed internet connections, and extra cable outlets.
• The home is brand new. You will be the first to live in it. Therefore, you don't have to repair the home or correct someone's décor or remodeling choices.
• If you purchase the home early enough in the process, you will possibly have control over the finishes of the kitchen, baths, etc.
• The builder will address/repair almost all imperfections before you take possession.
• Spacious kitchen, luxurious bathrooms, walk-in closets, and main level or bedroom level laundry-just to name a few.
• Brand new HVAC, plumbing, electrical, etc.
• Possibly more amenities – gyms, storage, parking, kids rooms, bike storage, pool.
• Fewer Repairs – Because it's newer construction, you typically have fewer repairs, especially the larger ones like a roof repair or a new furnace.