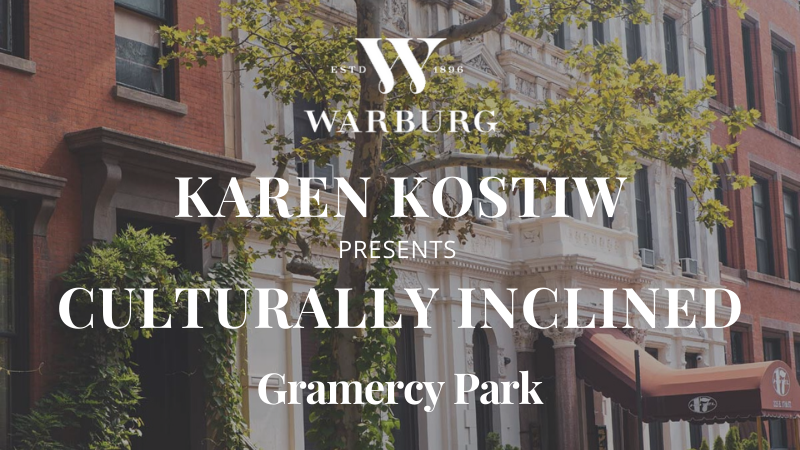 Gramercy Park
The streets of New York are so quiet and otherworldly. It is so quiet. The wind's breath can be heard moaning as it twists and turns in between the colossal buildings. Another unprecedented time we are living through that seems sometimes like a dream or nightmare rather than real life. This is an opportunity to be supportive and be collaboratively creating a better path forward. I want you to be safe and feel supported and cared for during this most challenging time; so stay in touch.
Gramercy Park
Culturally Inclined presents the Gramercy Park neighborhood named after its historic and treasured private park. In your leisure take a respite from this difficult time. Learn about the history including landmarks, the art galleries, the food opportunities, and the local real estate market. Local businesses that make our neighborhoods vibrant and add to our culture will require our support and patronage. My website: www.karenkostiw.com provides a Neighborhood Guide, and past Gramercy Park Culturally Inclineds November 2017 and Quarterly Market Reports offer other insights into the area.
Real Estate Amidst COVID-19
Fred Peter's CEO of Warburg Realty and Forbes weekly contributor discusses COVID-19 And Real Estate: With Caution, the Business of Selling Homes Goes On: "Amid escalating concerns about the spread of COVID-19, the New York real estate business is pushing the pause button, but not the stop button." We had a Warburg video conference call yesterday morning and discussed the current market. There are a number of agents including me that have been active in the market. Conducting showing, open houses, virtual tours, submitting offers, and figuring out a process to conduct closings. The real estate market is slower, but not on hold. We are all a community of buyer and seller agents working together. Figuring out how to make transactions happen and be present and support our clients.
Click on the link, Kori Covrigaru CEO | PlanOmatic wrote an Open Letter details what PlanOmatic is doing, and asking of the real estate industry, in order to maintain a safe working environment for our clients, their clients and photographers across the industry and for (virtual) open houses and showings to continue. I am available to find answers to your questions, or just listen to your concerns. Don't hesitate to call – 917.524.4152, or email me or text me.
Market Metrics
Let's look at some metrics to obtain a pulse of the market while we are all social distancing:
The Monthly New Supply; the typical rate of new inventory coming onto the market during a given month. The month of March – 2019 reported 1,792 listings, 2018 reported 1,787 listings and 2017 reported 1,768 listings. As of today, there are 1,429 New Supply listings so we are trending downward for 2020.
The Monthly Contract Rate counts the number of contracts signed within any given month. The month of March – 2019 reported 1,090 contracts signed, 2018 reported 1,064 contracts and 2017 reported 928 contracts signed. Recent monthly signed contract rate:
846 "contracts were signed" four weeks ago;
180 "contracts were signed" one week ago; and
29 "contracts were signed" one day ago.
Open Houses – Building Management each day are setting stricter guidance and many showings have been suspended. Currently, real estate showings and appointments are prohibited to eliminate unnecessary traffic in the building and provided safety.
Thanks and Prayers for the Heros
My prayers and thankfulness are with those who are talented and brave and support us all each day. Thank you to those who are working diligently to maintain our safety and health: doctors, nurses, technicians, paramedics, sanitation and cleaning workers, government, policy, food and transportation workers, and volunteers. Let's be conscientious and follow the guidance provided by our Federal, State, and Local Government and World Health Organization | Centers for Disease Control and Prevention | New York City Department of Health | New York City Health. Remember, we are all social distancing ourselves to save lives. We are stronger united together. And, together we will conquer any challenge that comes our way.
In the real estate industry, homes are our business. Today, it is our duty to make sure that homes continue to be safe for everyone. This includes those clients that are leasing, renting, buying, and selling. Your health and safety are top priority so take care of yourself and your family. Reach out to me if I can be of service to you.
Quote – Gramercy Park
"Home isn't a place at all. Home is having someone's face light up when you walk into a room."
― Paula Cohen, Gramercy Park

"In times of stress, the best thing we can do for each other is to listen with our ears and our hearts. Be assured that our questions are just as important as our answers." …

"All of us, at some time or other, need help. Whether we're giving or receiving help each one of us has something valuable to bring to this world. That's one of the things that connects us as neighbors. In our own way, each one of us is a giver and a receiver." ― Mr. Rogers
Note: Click on tiles and Hyperlinks for further information
Warburg Way
Tell your friends and family I am on duty to help with their home purchase and selling plans for 2020. The Warburg Way is best encapsulated in Fred's blog article "At Your Serve" I recognize that being entrusted with a client's listing or new home search is a significant responsibility. My goal is to build relationships through the deployment of experience, expertise and integrity.