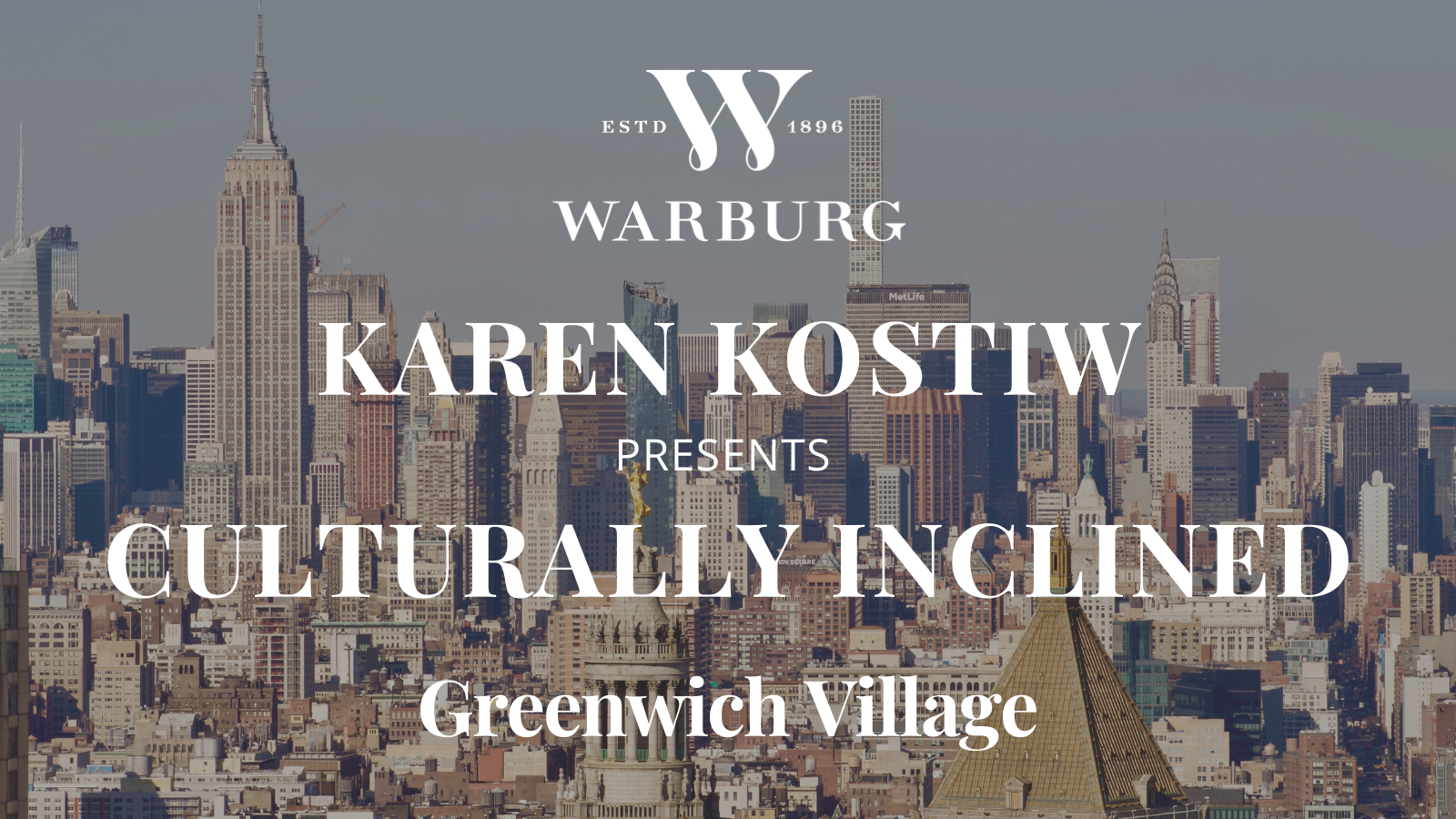 Mirror of Life
"Architecture is the very mirror of life. You only have to cast your eyes on buildings to feel the presence of the past, the spirit of a place; they are the reflection of society." – I.M. Pei, Pritzker Prize-winning Architect. We lost a true titan in the real estate world this year, the Pritzker Prize Committee praised I.M. Pei's work "can be characterized by its faith in modernism, humanized by its subtlety, lyricism, and beauty." Jessica Dailey in her Curbed article titled "I.M. Pei's notable New York City buildings, mapped" maps the indelible marks he left throughout NYC. She reflects, "that it is certainly true of I.M. Pei's works in New York City, which vary greatly—from an innovative Brooklyn street to a Brutalist superblock in Greenwich Village to a gone-forever airline terminal—while all highlighting Pei's quest to create elegant, light-filled spaces."
Look Up
We are all distracted by our phones and busy lives. In spite of that, Clyde Haberman Op-Ed piece titled: "Look Up" on December 28, 2019, expresses a passionate plea to put down our phones and look at the wonders around us.
He reminds us that we lost another amazing New York City story-teller "Richard F. Shepard, a keen and joyful a chronicler of New York as ever graced the pages of The Times, had simple advice for anyone out and about on the city streets. Look up, he said. Look especially at second-floor windows above storefronts. That, he likes to say, is where a lot of absorbing action takes place. Why would a perambulating soul wish to miss any of it?" Mr. Haberman pointedly expresses that we live in a Great walking City "But there's a more basic failing that is apparent every day in a great walking city, be it London, Paris, Rome, San Francisco, Boston or, for our purposes, New York. The frailty is inattentiveness. What's the point of navigating the metropolis if you ignore the very sights that give urban life its verve?
View the Spendor
If you don't look up, you won't see the splendor that is the top of the Woolworth Building.
Sense the small-town flavor of City Island in the Bronx.
Admire the Patience and Fortitude of the New York Public Library.
Take glee in a child's exploring the Brooklyn Botanic Garden.
Appreciate the easy elegance of the Verrazzano-Narrows Bridge,
The grandeur of the Unisphere in Flushing Meadows-Corona Park in Queens,
The natural beauty of the High Line,
The entrance to the Astor Place – Cooper Union subway station and beaver plaque, which is on the National Register of Historic Places.
You will surely be heedless of ghosts of an older New York that haunt the sides of some brick buildings — faded advertising signs for long-gone toothpaste brands, furniture makers, and (gasp) corsets." Therefore, let's make it our New Year's Resolution for 2020 to turn off the noise and enjoy the endless beauty New York City offers on a minute by minute basis.
Greenwich Village Historic District 50th Anniversary
To end 2019, I present Culturally Inclined examining Greenwich Village's art, fashion, music, iconic clubs, and culinary scene. Along with some cool work-out ideas to burn-off all those holiday indulgences so you are in shape for Spring. Additional news "The Greenwich Village Historic District marks its' 50th Anniversary and "has been home, over the years, to countless writers, authors, poets, and other literati. Known as an area for artists, the writers who worked in the Greenwich Village Historic District held salons and other gatherings of their peers in the neighborhood.
Thus making the area famous not only for the writers who lived there but for their communities which produced whole literary movements beyond the individual works each writer produced". Furthermore, as Ariel Kates reported and shares with a mapping of famous writers homes in her article titled: "Great Writers and the Greenwich Village Historic Village. And Greenwich Village Society for Historic Preservation is responsible for preserving the architectural heritage and cultural history of Greenwich Village. The point, in fact, Greenwich Village Society has a new tool enabling you to see side-by-side photos of every one of the more than 2,200 buildings in the district in 1969 at the time of designation, and today. Additionally, it also offers tours of the district's incredibly rich history, architecture, writers and artists, theaters, houses of worship, and more. Explore it all here.
Top Sales for Greenwich Village
Greenwich Village remains a hot neighborhood among buyers. Thus far there were 550 closed sales in 2019. Generally, the $1 to $3 million comprises 42% of the market, $1 million and below comprises 38% of the market, $3 to $8 million comprises 15% of the market, $8 to $12 million comprises 3% of the market and $12 million and greater was 2% of the market.
Moreover, the top largest sales were:
1) 21 East 12th Street Unit 3A Condo for $23,278,630 (April closing),
2) 11 West 12th Street (1 Family | 25 Foot Wide | Built in 1847) – $19,900,000 (June closing) and
3) 130 West 12th PH Condo for $18,500,000 (June closing).
Additional facts, new development 21 East 12th Street is a modern design influence is by traditional limestone prewar apartment buildings in the neighborhood. Designed by Selldorf Architects the building resides at the corner of 12th Street and University Place. Furthermore, the building comprises 52 corner residences set upon a lushly landscaped podium. The PH's sold at: PHC – $17,281,287 October closing), PHB – $16,842,942 (October closing), and PHA – $15,001,495 (October closing).
Volstead Act's (Prohibitions) 100 Anniversary
During these cold winter months celebrate the Volstead Act's (Prohibitions) 100 year Anniversary by tasting a delicious cocktail at some of Greenwich Village's most iconic speakeasies: Angel's Share, Chumley's', Employees, Garret, 124 Old Rabbit Club, Please Don't Tell, Slowly Shirley, Strip House.
During this period of outlawing the sale of alcohol birthed some delicious cocktail inventions; so try a few. After sampling a few cocktails stop in at Veniero's Pasticceria on East 11th Street and 2nd Avenue celebrating 125 years and is a favorite of mine. Therefore, celebrate by tasting one of the many Italian delicacies they offer: cannoli, cheesecake, biscotti along-side a specialty espresso. Historical fact, in 1885, Antonio Veniero at the age of 15 years old immigrated to America from Southern Italy. He was the one who opened this amazing family-run Pasticceria. Furthermore, Mr. Veniero brought over several "maestro pasticcieres" (master bakers) from Sicily to run his kitchen to capture the authenticity of traditional Italian recipes. Today this New York City landmark continues on the family tradition by Robert Zerilli's grandson of Antonio Veniero.
Good news going into 2020 per a recent Bloomberg article: "Luxury Real Estate Poised to (mostly) Strengthen" indicate "don't be surprised next year to spot the world's wealthiest people beginning to spend money again as home prices in relatively stable economic areas continue to sink into bargain territory."
Year of the Rat
The coming year in Chinese Astrology is the Rat. Considered the first sign in the 12 animal cycle. And for this reason, 2020 is thought of as a year of new beginnings and renewals. Apart from this, the new year offers us an opportunity for us to work together so reach out to me if I can help you or a friend to accomplish your real estate goals. This New Year let us raise a toast to those wonderful journeys, and be hopeful about many more to come. As we celebrate the New Year 2020, I wish you success, a healthy long life, and a fresh start. Happy New Year 2020!
Supplementary Digests | Greenwich Village
*My West Village and East Village Neighborhood Guide UWS Neighborhood Guide, and past Culturally Inclined September 2017 |and Quarterly Market Reports
Poem by Robin
I leave you with a gift for the holiday from and by Robin Lily Goldberg. A beautiful poetry Trio capturing the senses of the season.

Good morning
muses
speak through snowflakes,
arriving at kitchen windows
with songs
that nourish smiles
like first grade flavors

Repetitive Wish
more music
to animate emotions
sailing through the space
between Sundays
and sandcastles
carved from soupy crayons
in every color
of the country
called home

iridescence

bubbles bloom
like dreams
breathing fragrances
into memories
of mornings
when the sunset
matched the sunrise