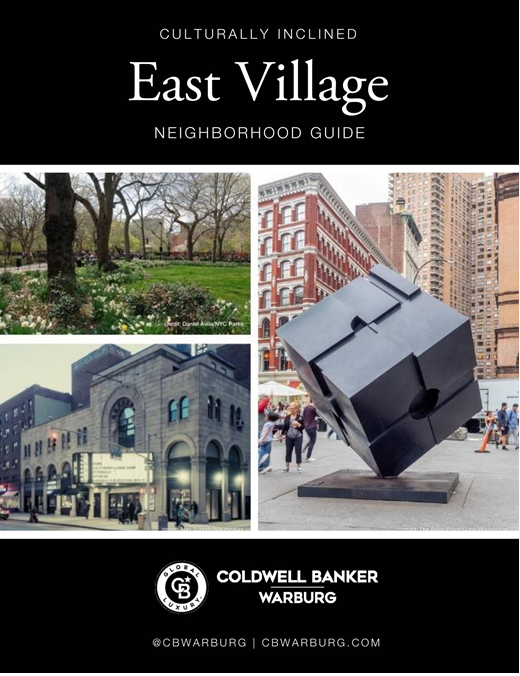 This month Culturally Inclined, is all about the East Village. The East Village is known for its creativity and innovation. The area continues to be an innovator by preserving historic districts and landmarks, including many sustainability initiatives.
East Side Coastal Resiliency
The East Side Coastal Resiliency Project is underway to provide flood protection to vulnerable areas of Lower Manhattan. The Oyster Project aims to restore 100 million oysters to New York Harbor in the next five years. Plus, currently piloting oyster setting processes that allow us to scale to 25 million oysters per field season by 2024. The LES Ecology Center is a pioneering community-based model in urban sustainability. Ecology Center provides unique e-waste and composting services, environmental stewardship opportunities, and educational programming to all New Yorkers. An exciting project for those who want to learn about environmental issues and take responsibility for creating solutions through action.
The East Side Coastal Resiliency (ESCR) Project is a coastal protection initiative jointly funded by the City of New York and the federal government. Furthermore, its aim is to reduce flood risk due to coastal storms and sea level rise. The boundaries of this project correspond with the natural "pinch-points" in the 100-year floodplain:
East Village Boundary
East Village boundaries roughly are the area east of the Bowery and Third Avenue, between 14th Street on the north and Houston Street on the south. The East Village contains three subsections: Alphabet City, about the single-letter-named avenues located east of First Avenue; Little Ukraine, near Second Avenue and 6th and 7th Streets; and the Bowery, located around the street of the same name.

Click on the Photos below for Additional Commentary