Manhattan Market supply is underwhelming, and we should begin to see a seasonal trend downward as we move into the holidays. Supply has risen slightly for the week of October 21st and stands at 7,748. Pending Sales are down almost 2%; 2,714.
Market Pulse
The market pulse measuring the ratio of supply and demand seems to be evidencing the beginning of the buy-side leverage peaking. We are looking for evidence that the bottom has been reached, and the curve is beginning to turn in a "hockey stick" formation before the curve heads upward. The weekly contract signed of "215" demonstrates a bump in deal volume. We will watch to see if this continues. This is the biggest week since July, demonstrating over 200 contracts signed.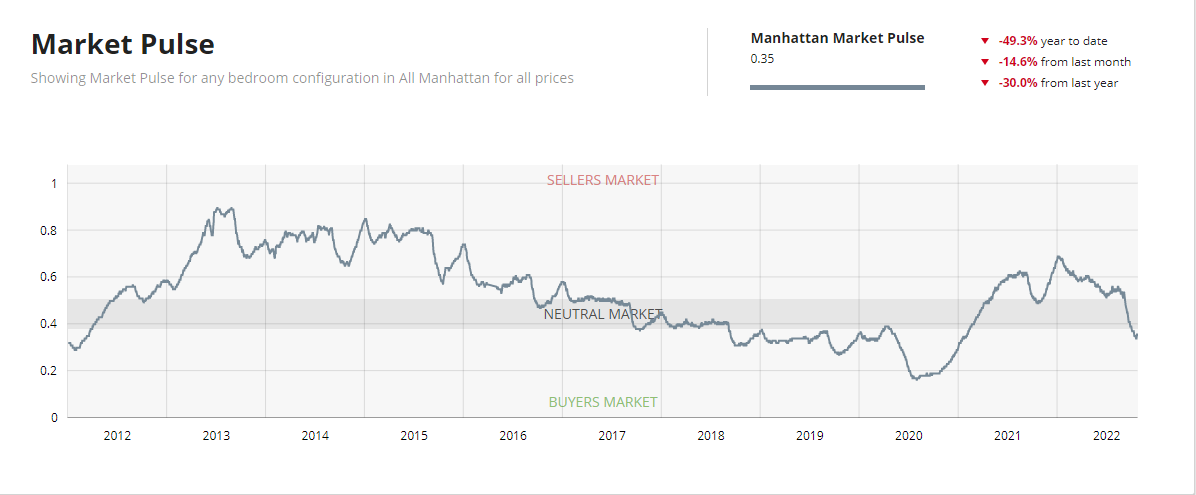 Rates
October 20, 2022
The 30-year fixed-rate mortgage continues to remain just shy of seven percent and is adversely impacting the housing market in the form of declining demand. Additionally, homebuilder confidence has dropped to half what it was just six months ago and construction, particularly single-family residential construction, continues to slow down.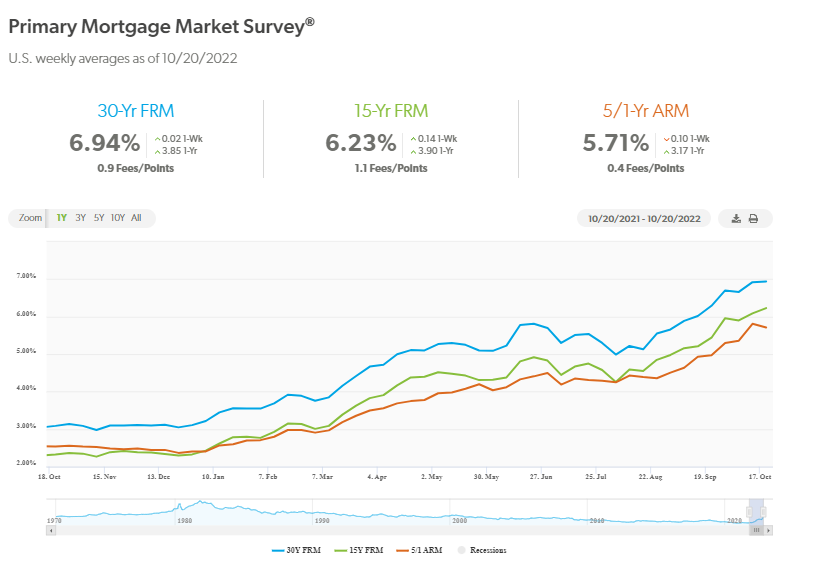 Rising interest rates will put additional upward pressure on rents by making purchasing homes more expensive, potentially driving New York City inflation higher going forward.
Sponsor Sales
"Contract volume is holding steady after several weeks of post-summer decline." – Kael Goodman, co-founder, and CEO
Contract volume was essentially static last week with 34 deals city-wide in comparison to 33 the prior week. Contracts reported across 29 buildings totaled $109,624,129 (+31%). Average asking price and PPSF were also up, at a respective $3,224,239 (+26.8%) and $1,940 (+2%).
Activity above $4M was also fairly steady, with 7 new deals compared to 8 the week before. The average luxury asking price was significantly higher at $8,791,428 (+40%)
Manhattan had 20 contracts (+25%), Brooklyn had 10 (-29%), Queens had 4 (+33.3%)
Olshan Report tracking Contracts Signed $4M and above
There were 30 signed contracts at $4 million and above this past week. The second-straight week of robust sales, which totaled $211,246,989. A rebound from a 3-week slide in sales.
The top 2 sales were in buildings designed by Robert A.M. Stern located on the UES and Downtown.
Articles
AMNY: New Development Top Sellers
Ultra Luxury Townhouses are a hot commodity
Other educational articles about the market and your home search are under Karen's Blog.