Manhattan Market Report for the week ending October 28th is anemic as we move into the new month. Supply and Pending Sales are both down slightly. Supply closed out at 7,765 and Pending Sales 2,678, maintaining the market pulse in buyer leverage territory at.35%
As we began the month of November, Stocks tumbled as trading commenced. Traders also assessed better-than-expected economic data and what it spells for Federal Reserve policy in the future. The Dow Jones Industrial Average fell 91 points or 0.3%. The S&P 500 and Nasdaq Composite shed 0.4% and 0.7%, respectively. All the major averages opened higher but turned "negative" after job openings data for September showed a resilient labor market. Rates eased off their lows following the report, with the yield on 10-year last trading two basis points lower at 4.059%.
Market Pulse
The market pulse measuring the ratio of supply and demand seems to be evidencing the beginning of the buy-side leverage peaking. Continue to look for a "hockey stick" formation before the curve heads upward. The weekly supply is down and stands at 333. The weekly contract signed is down too and stands at "167". Some sellers capitulate and reduce list prices, but many choose to rent their property or remove the listing from the market altogether. Off-Market Inventory for this week is at 200.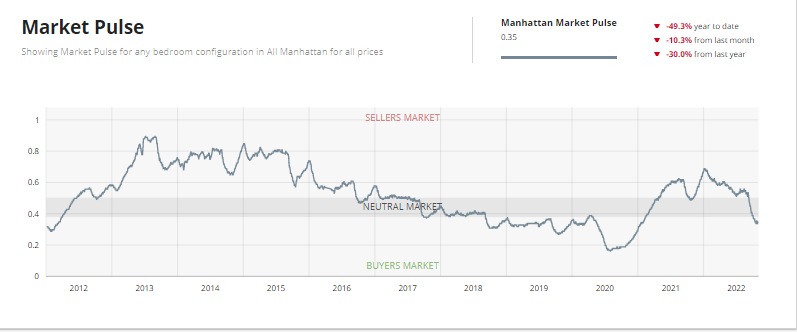 Freddie Mac Rates
News Facts
"The 30-year fixed-rate mortgage broke seven percent for the first time since April 2002, leading to greater stagnation in the housing market," said Sam Khater, Freddie Mac's Chief Economist. "As inflation endures, consumers are seeing higher costs at every turn, causing further declines in consumer confidence this month. Many potential homebuyers are waiting to see where the housing market will end up, pushing demand and home prices further downward."
The 30-year fixed-rate mortgage averaged 7.08 percent, with an average of 0.8 points as of October 27, 2022, up from last week when it averaged 6.94 percent. A year ago at this time, the 30-year FRM averaged 3.14 percent.
The 15-year fixed-rate mortgage averaged 6.36 percent with an average of 1.4 points, up from last week when it averaged 6.23 percent. A year ago at this time, the 15-year FRM averaged 2.37 percent.
5-year Treasury-indexed hybrid adjustable-rate mortgage (ARM) averaged 5.96 percent with an average of 0.3 points, up from last week when it averaged 5.71 percent. A year ago at this time, the 5-year ARM averaged 2.56 percent.
Sponsor Sales
"October ended on a high note with a jump in contracts after three pretty consistent weeks."
– Kael Goodman, co-founder, and CEO
New dev condo sales jumped 56% last week, with 53 deals reported city-wide and a major spike in Brooklyn. Forty developments reported contracts totaling $109,150,431. The average asking price decreased to $2,059,442 (-36%) and average PPSF also decreased to $1,612 (-17%).
Nine deals were on units asking above $4M, up from 7 previously. The average asking price for a luxury unit was down nearly 40% to $5,361,611.
Manhattan reported 21 contracts (+5%), Brooklyn had 28 (+180%), Queens had 4 (no change)
Manhattan reports 21 contracts totaling $69M across 15 buildings, with the average unit asking $3,285,642 (-21.4%) and $2,073 PSF (-11.4%).
100 Vandam in Soho reported three contracts for 1-beds ranging from $1.7-$1.8M.
The Hayworth. Both deals at the Zeckendorf condo were for 3-bed units asking $4M and $2.9M.
The Solaire reported a 2-bed asking $2.5M and a 1-bed asking $1.2M.
One Manhattan Square and 35 Hudson Yards were Habitual top performers and had two deals.
2022 International Buyer's Guide to Purchasing U.S. Property
International investment is back! To make the process seamless for international buyers, the Coldwell Banker® Brand has released a comprehensive guide on purchasing US property. Some overseas buyers are unwilling to buy in NYC currency conversion, effectively increasing acquisition costs. However, Americans are taking advantage and purchasing abroad.
Click on the Link "International Buyer's Guide"
The Trend Report 2022
Where do the wealthy invest? Luxury real estate is the safest investment one can make, says the new Coldwell Banker Global Luxury report.
"The Trend Report" identifies the top trends and investment habits revolutionizing the global luxury real estate landscape. The report indicates that real estate remains in a strong position for the remainder of 2022 and heading into 2023 as more affluent consumers are turning to real estate to diversify their portfolios and as a long-term investment strategy. Furthermore, 80% of U.S.-based high-net-worth consumers agree that real estate is a safe investment, and over one-third agree that it is the safest investment one can make when compared to stocks, bonds, cryptocurrency, and pensions.
Additionally, consumers are over three times more likely to think that 2023 will be a better time to invest in real estate compared to 2022 – rising a whopping 42% from only 11% a year ago.
The Trend Report, paired with a survey conducted by Censuswide of over 2,000 U.S.-based high-net-worth consumers, insight from Coldwell Banker Global Luxury Property Specialists, and data collected by the Institute for Luxury Home Marketing and Wealth-X, provides an in-depth analysis of what's driving real estate investment, emerging worldwide luxury real estate market trends, market growth opportunities and global wealth.
The Trends Report is unlike any other: it is truly one of the only forward-looking, luxury real estate market-focused reports out there right now. Knowing that the market is changing, our goal with this first edition was to give you a big-picture perspective of the trends expected to drive high-end property buying and selling over the next 1-3 years. We arrived at these trends by curating insights across various sources. For the first time, we commissioned an exclusive Coldwell Banker Global Luxury® and a Censuswide survey of U.S.-based high-net-worth individuals. We leveraged data from the Institute for Luxury Home Marketing and Wealth-X. And we spoke to top industry experts. All so we could help you better serve your affluent clients and prepare your business for the future. The Trend Report is our way of saying, "We support you by always looking ahead."