Manhattan Market for the week ending October 7th, the supply of 7,552 remains in line with last year. Contacts Signed, 2,814 is down 3% from the previous week.
The overall Manhattan Market's supply/demand market pulse ratio shows buyers have the leverage advantage and resides at .37%.
Contract Signed (Demand in the Market)
Manhattan typically produces 1,010 new deals signed in April (last 3 yr average). So far, month to date, Manhattan has produced 123, putting us on pace for a 76% decline to the 3yr average by the end of this month.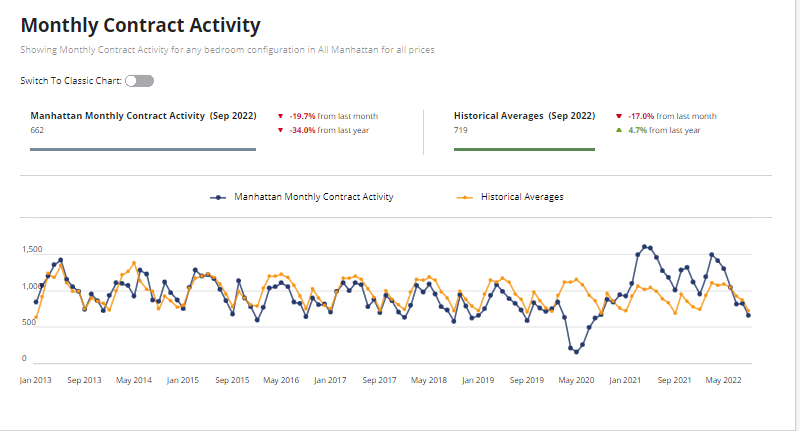 Mortgage Rates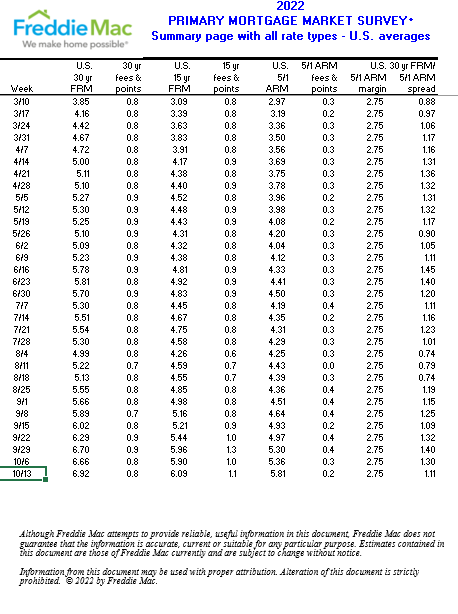 As Freddie Mac reports, "a tale of two economies in the data: strong job and wage growth keep consumers' balance sheets positive, while lingering inflation, recession fears, and housing affordability drive housing demand down precipitously. The next several months will undoubtedly be important for the economy and the housing market."
Manhattan Market New Development
"While the mid-week holiday and three-day weekend likely affected contract activity, the market is now performing below pre-pandemic norms. This is the trend we're watching in October."
– Kael Goodman, co-founder, and CEO
Another Dip
Contract volume dropped again, down 29% from the previous week. Sponsors reported 40 deals across 28 buildings, reflecting $80,021,180 in total. Average asking price increased to $2,000,529 (+8%) and to $1,637 PSF (+3%). The luxury market saw only three deals above $4M.
Manhattan had 16 contracts (-33%), Brooklyn had 19 (-17%), Queens had 5 (-44%).
The activity was well below 2019 norms when the same period saw nearly 100 city-wide.
Manhattan Market Contracts $4 million and Over
There were twelve contracts signed at $4 million and above. Half were coops, and Half were condos and two townhouses. The 3rd week of declining sales due to rising interest rates, the chaotic stock market, and the Jewish holidays.
An interesting note about the no.2 contract for a 10th-floor unit at 1228 Madison avenue at 88th Street. Buildings a land lease coop with a 150-year land lease is always a tough sell. Two other units in the building, including the no 3. contract of the week, were sold to investors in the development.
Other educational articles about the market and your home search are under Karen's Blog.
New York by the Numbers Monthly Economic and Fiscal Outlook.