Manhattan Market report's for the week ending October 14th evidence supply at 7,684, up 2%, and Contract Signed, 2,761, own 2% from the previous week. The shifting season evidenced by the weather and rates, has also impacted our markets. Each area and building in the City is an individual "market segment" with its own supply/demand dynamics. Overall in Manhattan, the supply/demand market pulse ratio lies in "Buyer Territory." The negotiability leverage is towards Buyers. Generally, buyers are eager for new inventory, and sales are slightly below seasonal averages.
Although the market has cooled over the past six months, new enthusiasm and creative energy abound. New residents are relocating, companies hiring, and employees are coming back to work in person, and the streets, restaurants, and entertainment venues are busier than ever. Buyers are out purchasing "trophy" and "new development" properties and properties in move-in condition.
Furthermore, as the upward climb of interest and rental rates continues, buyers on the sideline are beginning to realize homeownership is a great hedge against those rising costs. You can lock in what's likely your largest monthly payment (your mortgage) for the duration of your loan. That helps stabilize some of your monthly expenses.
In Manhattan, "Prices have moderated but not fallen off the cliff. Additionally, certain new developments are achieving 2021 prices. New York is not a secondary market, it is a primary market, a global market…a "need housing" market. So although the market will slow, it will not plummet".
Freddie Mac Rates
Mortgage rates slow their upward trajectory. The 30-year fixed-rate mortgage remains shy of seven percent and is adversely impacting the housing market due to declining demand. Additionally, homebuilder confidence has dropped to half what it was just six months ago, and construction, particularly single-family residential construction, continues to slow down.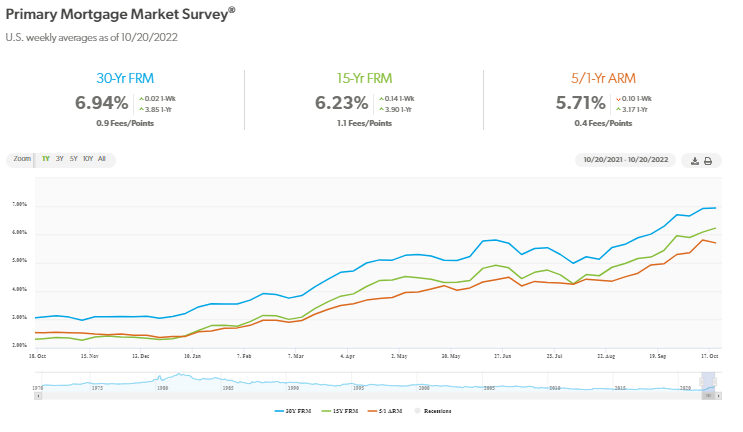 Manhattan Market New Development
New York is different it's in a world of its own! Some buyers in the high-end market cashed out or simply have the wherewithal to purchase with cash. Therefore not impacted by the rising interest rate market.
The only boro to hold steady, Manhattan, had 16 deals again last week. Contracts were reported across 12 buildings, totaling $61,352,000 with the average unit asking $3,834,500 (+29%) and $2,386 PSF (+15%).
208 Delancey St reported four contracts. Prices ranged from $795K – $1.595M.
Several projects reported two deals. 212 West 72nd St in Lincoln Square had a 4-bed asking $5.95M and a 3-bed asking $4.9M.
Selene – aka 100 East 53rd St – reported a substantial deal last week on an $8.995M 3-bed.
Manhattan Market Contracts $4 million and Over
There were 24 listings under contract for $4 million and above for the week ending October 16th, comprising 15 condos, five coops, and four townhouses. Six Contracts were signed north of $10 million, the highest number of trophy properties sold since the week of May 9, when seven were sold.
Rental Market
Jay Parsons provides an excellent synopsis of the overall state of the rental market. In his article, he states that If affordability is the major reason, we should see three key signals: 1) Weakening rent collections, 2) a "flight to affordability" – a shift in demand toward cheaper submarkets and the more affordable Class C asset class, and 3) stagnating renter incomes.
And Jonathan Miller highlights "MANHATTAN RENTAL MARKET."
1. "Market median rent continued to level off at a near-record as high-end rentals pressed higher."
2. Net effective median rent fell for the second month, slipping to the third highest on record.
3. The market share of rentals with landlord concessions fell to its lowest level in more than six years.
4. The market share of bidding wars fell below prior-year levels
Doorperson's net effective average rent increased to a new high for the third time in four months.
5. The net effective median rent for existing rentals slipped to the second-highest level for the first time in eight months.
6. Luxury net effective median rent increased to a new high for the third time in four months.
7. Luxury average and median rents rose to new highs.
8. The entry threshold for the luxury market expanded annually for the fifteenth consecutive month.
If you want to learn more about a specific area, building, or the shifting market in general, let's connect.
Insightful Articles
Bloomberg: Manhattan Luxury Apartment Rents Are Still Hitting Record Highs
Real Page Analytics by Jay Parsons: Is Apartment Demand Weakening Due to High Rents? Look for These 3 Signals
Brick Underground: Rents in NYC have peaked at record highs
New York Post: New York's most over-the-top luxury real estate trends for 2022
New York Times: Which Amenities Are Worth More to New York City Buyers
AM: NYC'S New Dev Condo Market is Slowing Down – Except for Luxury