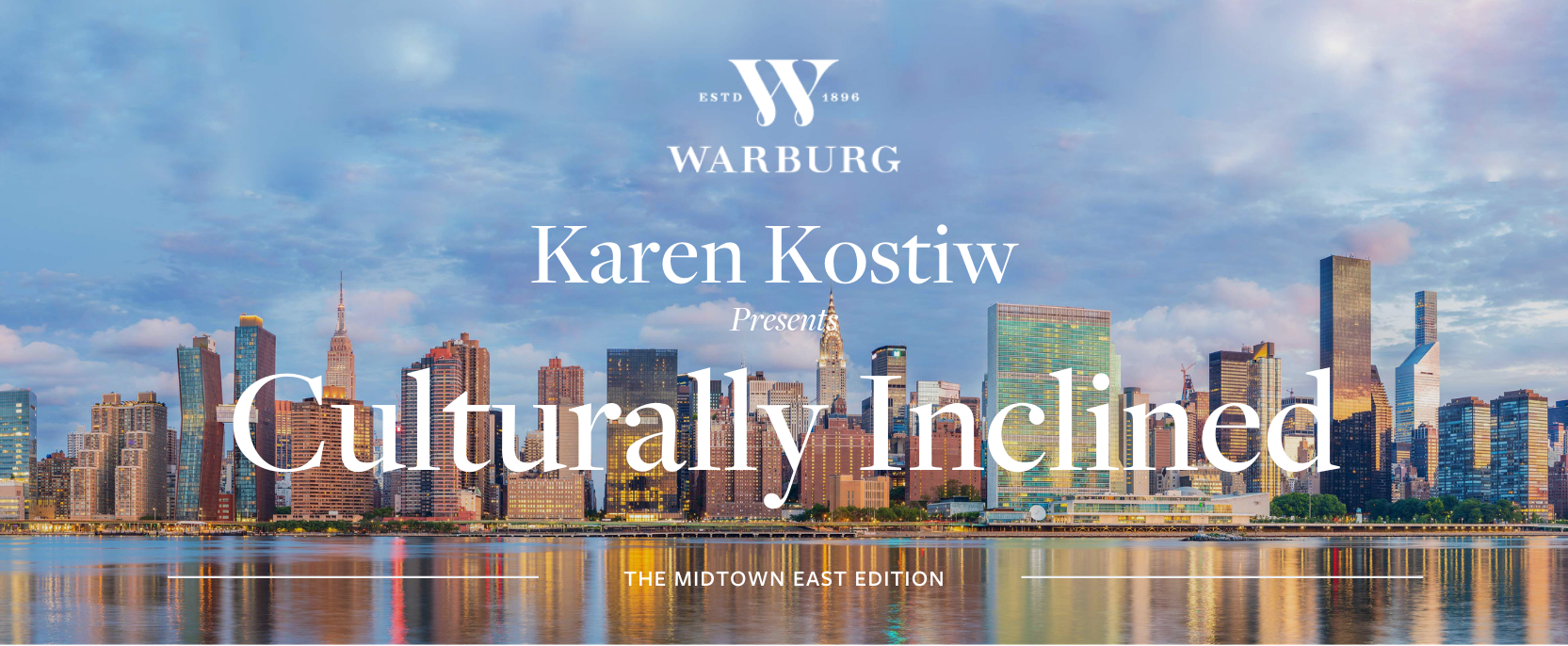 Autumn Equinox
September has brought with it shorter days reminding us the Autumn equinox is on its way. A colorful new month in New York City marks the most prominent cultural art institutions' seasonal openings. This including Metropolitan Opera, New York City Ballet, Carnegie Hall, Lincoln Center, Theater Openings. Additionally, annual events such as the 11 days San Gennaro Festival in Little Italy, Brooklyn Book Festival, New York Film Festival, Fashion Week, and the U.S. Open are rituals for New Yorkers.
Midtown
Culturally Inclined focuses on Midtown the central portion of the New York City borough of Manhattan. Additionally, Midtown, the go-to for high-end shopping, sophisticated jazz clubs, and where the who's who meets for fine dining. Importantly, Midtown is home to some of the city's most prominent buildings. This includes the Empire State Building, the Chrysler.
Beaux-Arts
Pursuing the Midtown area you will discover the magic of the Beaux-Arts architectural style brought from Paris. Once the rage, Beaux-Arts builders drew great pleasure in a decorative, ornamental flair and monumental grandeur rather than the perfection of scale and proportion. Some of the best Beaux-Arts examples are in Midtown. For instance, Grand Central, New York Public Library, New York Yacht Club, Knickerbocker Hotel, The Lyceum Theater, and New York Estonian House to name a few.
Museums
Behind the towering glass and steel buildings are historical institutions worth the journey. Therefore, take a peek in Morgan Library, New York Public Library, Japan Society, Museum of Modern Pinball, Transit Museum Gallery Annex, MoMa. All of these cultural institutions offer to stimulate ever-changing exhibits.
Take a whirl and transport yourself through some of this month's selected activities. Additionally, visit my Neighborhood Guide, rich with cultural activities, real estate listings, and restaurants to visit in Midtown.
Evolving Midtown Skyline
Midtown's landscape is evolving too.
The JPMorgan Chase Tower
Also known as 270 Park Avenue or Union Carbide Building) is the tallest voluntarily demolished building in the world (708 ft tall) overtaking the Singer Building, the current record holder demolished in 1968. It should be noted the Hotel Marguery, a 12-story Renaissance Revival built-in 1917 centered around a 250-foot long Italian garden graced this spot. The hotel had 29 stores, 110 luxury suites (6 to 16 rooms apiece), and 180 long-term apartments. The hotel had a storied history too with Nikola Tesla, inventor/engineer as a resident, and Albert E. Langford, a wealthy textile executive who was shot in the hallway and home to an underground gambling ring.
Additionally recognized as 550 Madison an originally the AT&T Building. Originally created as a post-modern skyscraper designed by Philip Johnson and John Burgee redesigned by Snøhetta and the Olayan Group.
At this time One Vanderbilt Place a 67 floor super tall skyscraper has risen next door to Grand Central (42nd & Vanderbilt) designed by Kohn Pedersen Fox as a class A office Tower.
New Residential Developments in the Area
A few amazing full amenity residential towers on the market and each special jewels in their own right.
The Centrale – 136 East 50th a 71 story tall full-amenity residential building designed by Pelli Clarke Pelli Architects combining the Art Deco style with contemporary elements. The exterior showcases a reflective glass façade articulated with facets of terracotta chevrons. Champalimaud Design envisioning the interiors of each residence to express worldly sophistication and timeless originality. Sales for available units range in price from $1,695,000 to $10,500,000. The Centrale has a total of 124 units. Sizes range from 777 to 2756 square feet. The condo is being developed by Ceruzzi Properties and SMI USA.
Rose Hill – 30 East 29th, a 46-story skyscraper currently taking shape in a historic section of. The building is named for its location on the former Rose Hill Farm estate, and CetraRuddy is designing an Art Deco-inspired facade as well as the interiors. Sales for available units start from $1,195,000. Rose Hill has a total of 123 units.
Central Park Tower – 217 West 57th a mixed-use supertall skyscraper being developed by Extell Development Company and Shanghai Municipal Investment Group along Billionaires' Row on 57th Street in Midtown with Breathtaking views of Central Park.
53 West 53, (aka MoMA Expansion Tower and 53 West 53rd Street, and formerly known as Tower Verre) is masterfully designed by Pritzker Prize-winning architect Jean Nouvel. A supertall skyscraper currently under construction by the real estate companies Hines, Pontiac Land Group, and Goldman Sachs, located in Midtown Manhattan, New York City adjacent to The Museum of Modern Art.
New York Tribute
New York City is resilient as the Tribute Lights in the night sky remind us. For this reason, an iconic symbol that both honors those killed and celebrates the unbreakable spirit of New York.
One year after September 11th a student wrote the following poem:
List of "Don't Forget" and "Remembers"
We were eight.
Before September 11th, we would wake up with a list of "Don't Forget"
Don't forget to…
Wash your face
Brush your teeth
Do your homework
Wear your jacket
Clean your room
Take a bath
After September 11th, we wake up with a list of "Remembers"
Remember to…
Greet the sun each morning
Enjoy every meal
Thank your parents for their hard work
Honor those who keep you safe
Value each person you meet
Respect other's beliefs
Now we are nine.
Embrace the beauty of this new season and relish the joys it bestows. I look forward to hearing from you.
New York Quotes
"By comparison with other less hectic days, the city is uncomfortable and inconvenient; but New Yorkers temperamentally do not crave comfort and convenience—if they did they would live elsewhere." – E.B. White

"In New York the opportunities for learning, and acquiring a culture that shall not come out of the ruins, but belong to life, are probably greater than anywhere else in the world." – Thomas Wolf
Note: Click on tiles and Hyperlinks for further information
Warburg Way
The Warburg Way is best encapsulated in Fred's blog article "At Your Serve" I recognize that being entrusted with a client's listing or new home search is a significant responsibility. My goal is to build relationships through the deployment of experience and expertise. Tell your friends and family that I am on duty to help with their home purchase and selling plans for 2019.