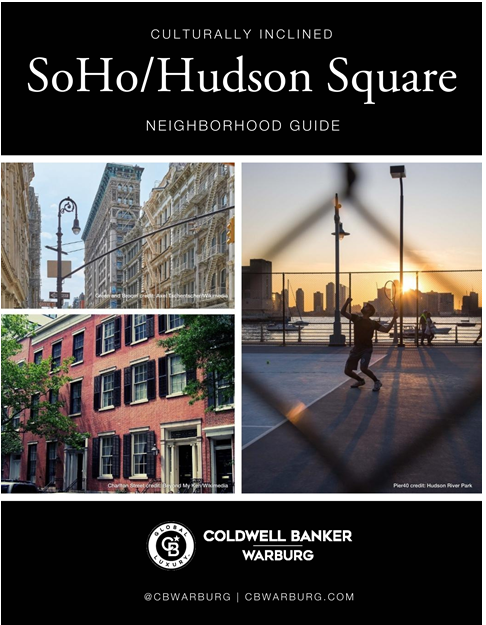 This months Culturally Inclined covers SoHo comprising the sub-neighborhood Hudson Square. Soho is not only known for artist lofts, trendy luxury shops, restaurants, and galleries. The streets with "brown street signs" mark the cast-iron historic district, and the ones in Hudson Square mark Charlton–King–Vandam Historic District, which contain the largest concentration of Federalist and Greek Revival style row houses built during the first half of the 19th century. The neighborhood's most prominent feature is the Holland Tunnel's Manhattan entrance.
Hudson Square is previously known as the Printing District. In the early 1900s, large concrete and steel factories became the homes of printing firms. I spent many nights waiting for the prospectus to print during my Wall Street days. Now, the area has been undergoing another renaissance. These warehouse-style, solid art-deco buildings, interconnection to the water, and transit are a draw to large technology and media companies. There are over 1,000 Hudson Square companies and 60,0000 employees. Large creative companies such as ABC Disney, Digital Ocean, Google, Publicis Groupe, Viacom, Squarespace, Disney, NY Public Radio, Edelman, Warby Parker HQ, Horizon Media, and NY Genome Center have made Hudson Square their home and are part of the revitalization.
The vision is to knit together Hudson Square to the lower Manhattan ecosystem. In conjunction, promote environmental sustainability, public health, and neighborhood identity. Accordingly, the Hudson Square area has room to grow and where innovation can thrive. New infrastructure connections are being created between Hudson Square and the surrounding Tribeca, East Houston, and Hudson River Park neighborhoods. The streets and sidewalks are imaginatively reinterpreted as new community and cultural spaces. Thereby enlivening the commercial corridors with outdoor art, dining, and green spaces enticing the public.
Besides this edition of culturally inclined my website has some Soho Hudson Square community and restaurant suggestions.