.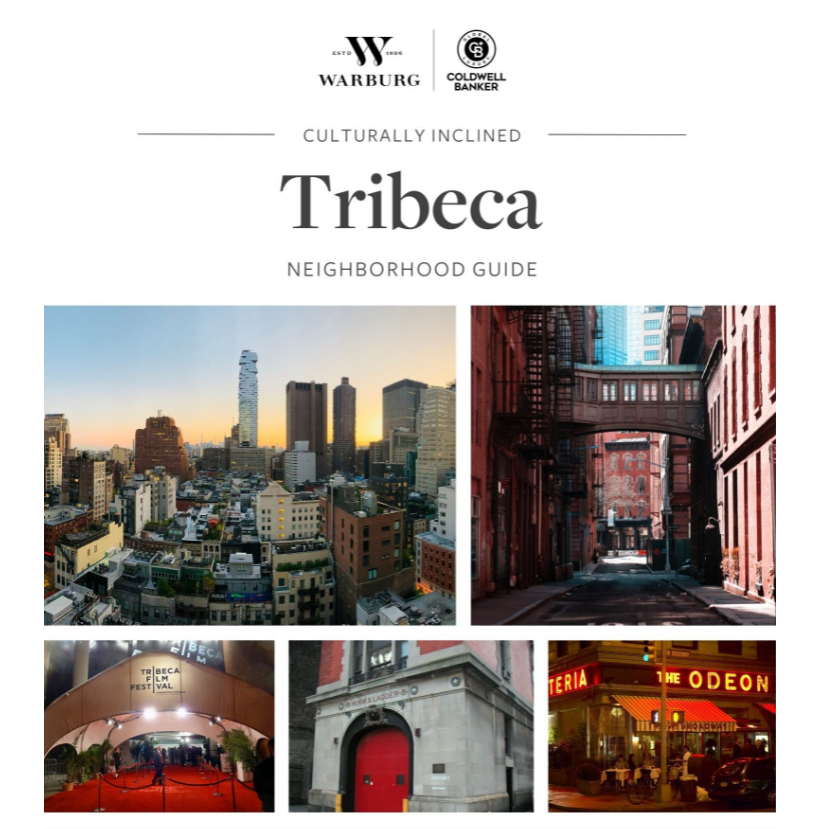 This month Culturally Inclined is all about the Tribeca (TriBeCa) the triangle below canal street. Picturesque cobblestone streets and iconic 19th-century loft buildings, TriBeCa is downtown's most coveted and exclusive neighborhood, as well as one of New York City's oldest. Furthermore, Tribeca also contains historical reimaginings and the newest and tallest buildings being developed today.
"Tribeca districts retain an enormous amount of its nineteenth-century commercial architectural character. Athough some historic storefronts, storefront infill, window ash, and similar materials have been replaced or obscured. The survival of the dry goods industry helped to maintain the mercantile architecture in the neighborhood. The return of residential and entertainment uses results in several alterations, which enhance the mercantile ambience through the conservation of historic building fabric and the installation of new features which complement it." -David M. Breiner
Building a Better Future
We are living through unprecedented times, spurring us on daily to demonstrate our resilience, sticktoitiveness, and adapt to the challenges set before us. Collectively we will build a better future. New York City is leading the way to becoming a sustainable City. Big initiatives are moving forward to transform and protect our water supply, reduce greenhouse gases, lower the carbon footprint, develop urban gardens horizontally and vertically, and improve our transportation arteries within the City and our neighbors. Take a look at OneNYC 2050 Plan, a strategy to secure our city's future against the challenges of today and tomorrow. With bold actions to confront our climate crisis, we are building a stronger city.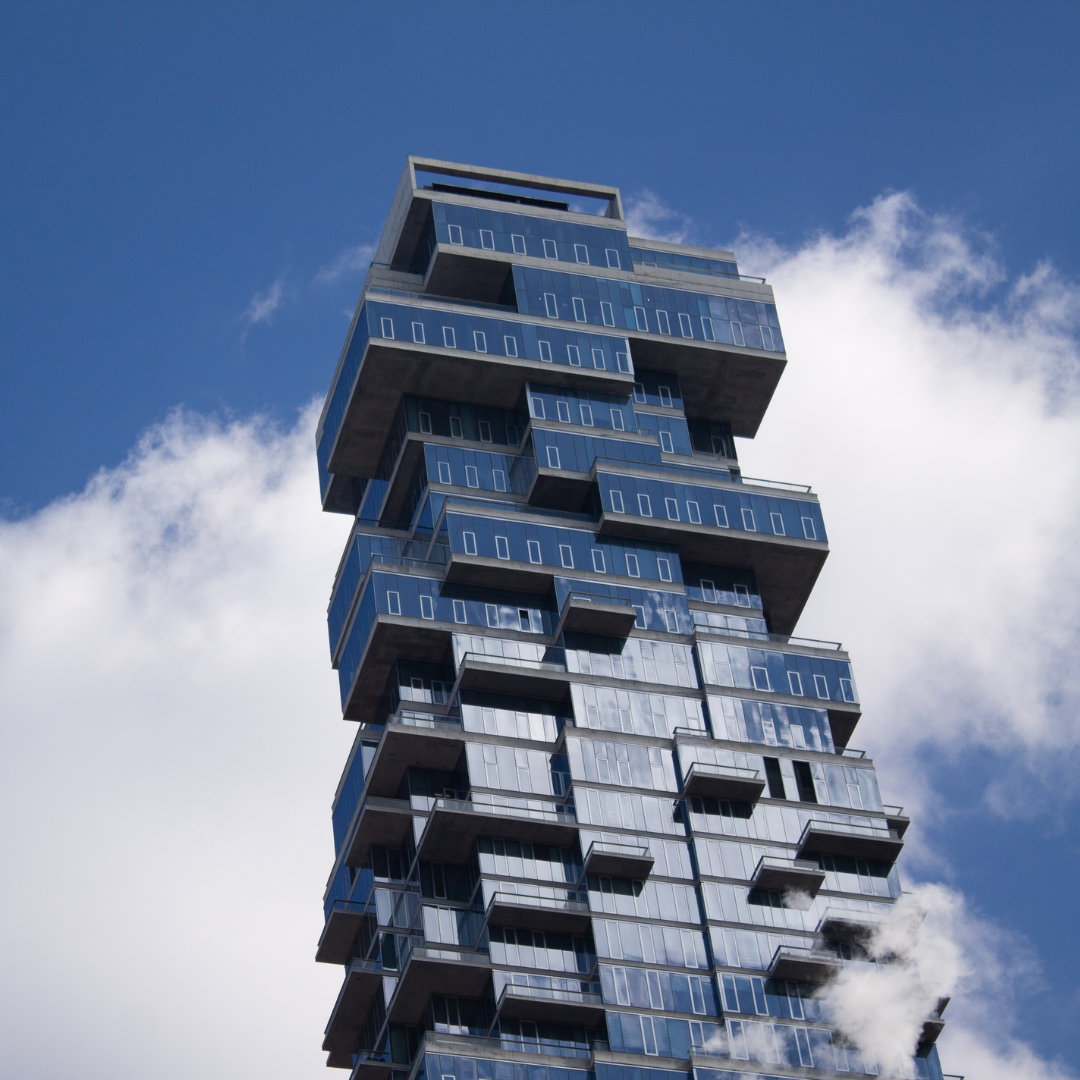 Look Up in Tribeca
Arriving in Tribeca, lookup. A modern marvel is juxtaposed against a height-restricted historical area amongst mainly low-rise buildings
A glass, Jenga-looking structure reaches up to the sky. Meet 56 Leonard. A 57 story condominium building, comprises a series of stacked blocks that is offset by one another as the tower rises. A global landmark designed by Herzog & de Meuron, a Swiss architectural firm was awarded the Pritzker Prize, the highest of honors in architecture in 2001. Furthermore, Anish Kapoor, known for the public sculpture Cloud Gate in Chicago, was the designer of a shiny bean sculpture that sits at the base of the building.
Tribeca's Name and Boundaries
The TriBeCa name was coined by artists who occupied the downtown area in the 1970s. The name was first a reference to one triangular block between Church Street and Broadway below Canal Street. Today Tribeca's boundaries—which are a favored debate among residents—generally extend east of Broadway to Centre Street, and back toward the Hudson River to West Street, where it goes downtown to Vesey Street, at the corner of the World Trade Center.
A rare map depicts lower Manhattan prior to the revolution and many of the street names closely represent the present-day ones. Detail from "Plan of the City of New York, in North America: Surveyed in the Years 1766 & 1767" shows the northern reaches of the developed city on Manhattan's west side, which ended around "Reads" Street in today's Tribeca. Courtesy of Robert Augustyn Rare Maps and Prints. As Carl Glassman reports in the Tribeca Trib "One of the most fascinating things you learn is not from the developed part of the city," Augustyn said, "but from the semi or undeveloped part of the city, you see that the city's ecology was amazingly varied at the time. Lots of wetland, a very hilly place." Click on the link for further history of Tribeca
Tribeca Lifestyle
The abundance of fine dining, art galleries, shopping, parks, and highly ranked schools make it the most desirable place to call home. Its exceptional architecture variety, historic cobblestone streets, and quaint feel all contribute to the sophistication and charm of Tribeca.
The Tribeca Film Festival founded by Robert De Niro, Jane Rosenthal, and Craig Hatkoff in 2001, following the attacks on the World Trade Center, Tribeca has evolved from an annual event to spur the economic and cultural revitalization of lower Manhattan to a gathering place for filmmakers, artists, innovators, and the global creative community. The Tribeca Film and Postcast Festival's 21st edition will take place June 8-19, 2022.
Tribeca Real Estate
Tribeca similar to other neighborhoods in Manhattan suffers from declining inventory and is close to its all-time historical lows. Manhattan inventory high was witnessed last fall when we hovered around 10,000 listings and lows were around 3,000 in early 2014.
Tribeca Supply
Similar to Manhattan Macro view Tribeca experienced a net deficit loss following each seasonal waive. This was due to the record-breaking amount of listings going into contract and being removed from the market. Although, significant inventory was added throughout the year buyers never felt it due to this net inventory deficit that occurred for most of the year. In the seasonal spring, we should see inventory added to the marketplace without the severe pent-up demand that played out all of last year.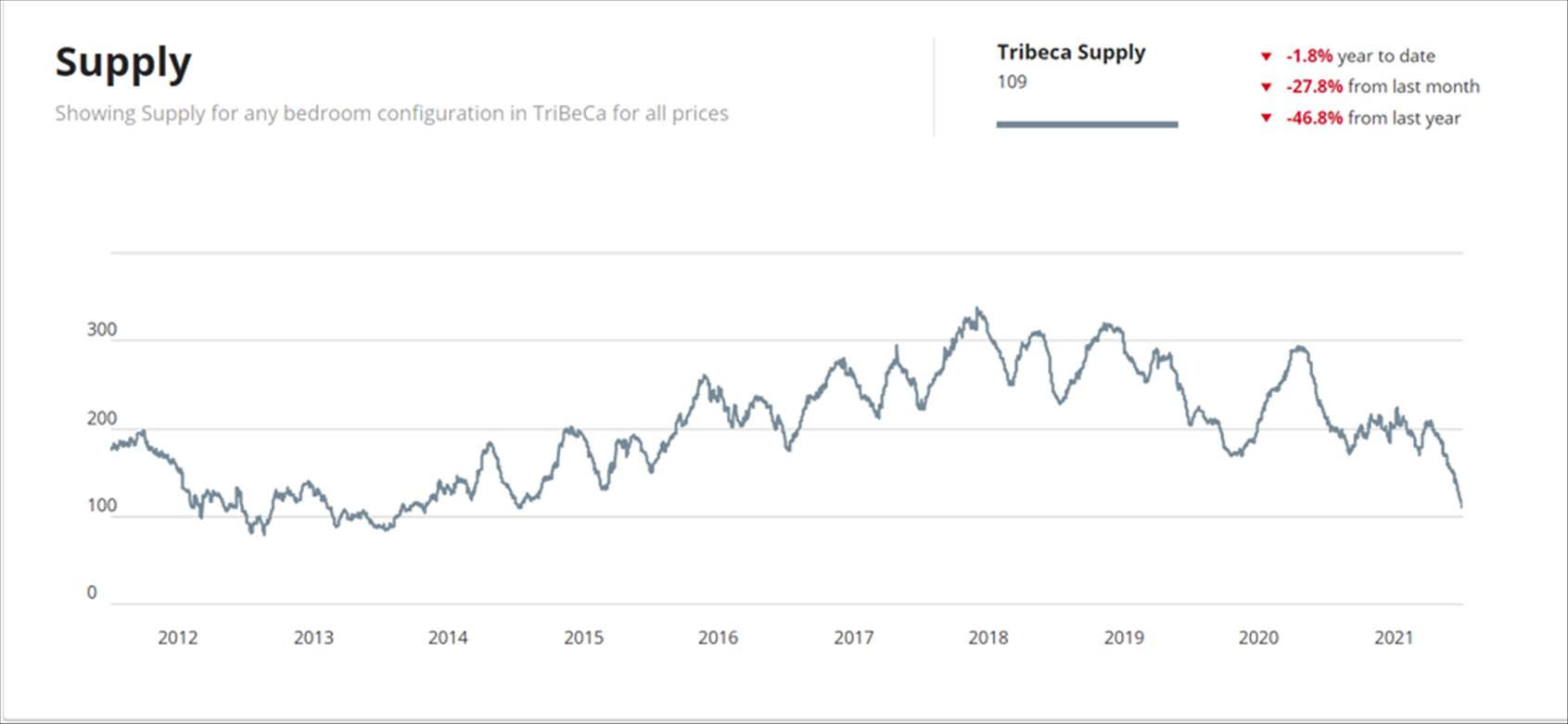 Tribeca Market Pulse
The UrbanDigs Market Pulse is a ratio of pending sales (demand 147) to overall inventory (supply 109). As it rises, leverage is shifting toward sellers, and as it falls leverage is shifting to buyers. The current market pulse is 1.35% shifted towards sellers for Tribeca. While the pulse (or "feel") of the market is similar to the peak of the last cycle. This does NOT mean that prices have returned to those levels. While the market is very liquid and there are buyers signing deals. Prices are not rising due to other macro and micro risks and uncertainty in the local and overall U.S. economy. Macro and Micro risks such as rising interest rates, potential policy changes and deflation of equity and bond asset bubbles, under the capacity depth of buyer/renter pool demand, and pressures on ground floor retail/commercial sectors will linger and continue to put a ceiling on price appreciation in the near term.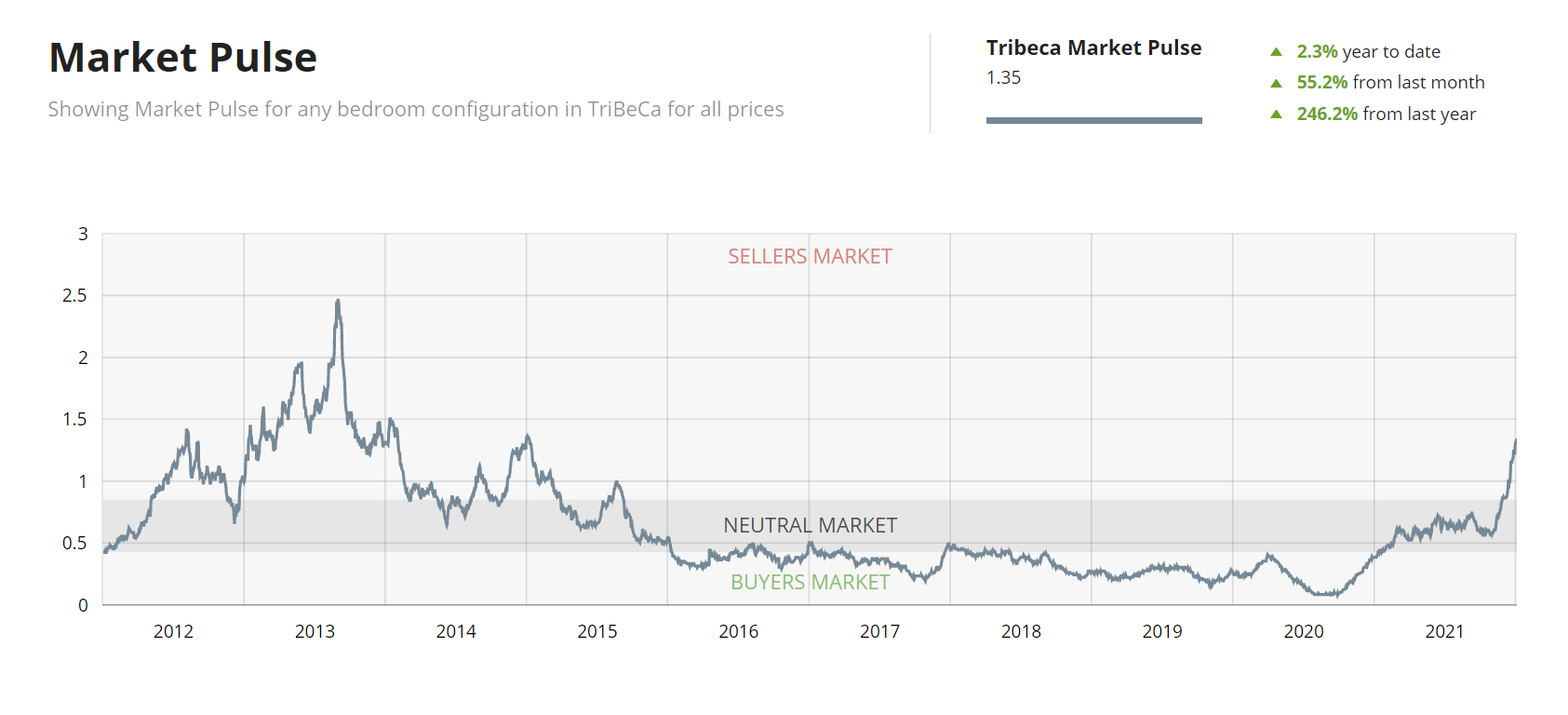 New Year Horizon
2022 will be the year foreign buyers/investors enter the market. Employees will return to the office in a new capacity, and reinvention usage of commercial/retail spaces will begin to flourish. On the horizon are rising rates, other risk trends, and a lessening of the purchasing frenzy we saw in 2021. Buyers will still contend with inventory that does not necessarily meet their unrealistic dream home desire. Buyers should anticipate that there is less negotiability, more competition, and prices will rise gradually in popular areas, buildings and floorplans. Sellers, unfortunately, prices will not rise as quickly as desired or in a straight line manner due to the macro and micro risks on the horizon. Our recovery forwarded will be bumpy, but transformative.
Top Tribeca Sale
The top luxury sale for December and the 9th for the year was a TriBeCa triplex with a private pool for $49. million at 443 Greenwich Street as reported by Vivian Marino in the New York Times article "A Strong Ending in 2021 for Manhattan's Luxury Market". The seller was Lewis Hamilton, the British racecar driver, and Formula One champion.
Tribeca Top Developments
Tribeca has 17 new development projects at various stages of available units for purchase. These new developments comprise 123 available units for purchase, which includes shadow inventory. Shadow Inventory refers to the stock of housing that has not yet been placed on the open real estate market.
Tribeca Culture
Tribeca preserves its history and cultivates the avant-garde art, crafters, and restaurant scene. Additionally, there are a number of sites in Tribeca on the National Registry of Historic Places, and its Parks (Pier 25/26) including Washington Market Park promote community sustainability, sports, arts, and many other recreational programs.
Moreover, Tribeca now counts 60+ spaces dedicated to diverse forms of arts: Art Galleries, Design Galleries, Non-profits & University Galleries, Performing Art Centers, Crafts & Makers, and more. Culture
Tribeca Culture and Arts Night, a free quarterly downtown arts festival presents a curated and exceptional program of exhibitions, performances, talks, and workshops throughout venues in Tribeca. T.A.C Night offers curated tours of exhibitions like an ART WALK, presents a program of events like a FESTIVAL, showcases venues/organizations like an ART FAIR, and unlocks spaces to the public like an OPEN HOUSE.
Synagogue for the Arts is a spiritual, cultural, and communal center of traditional Judaism, located in Tribeca NYC. The building, which is an architectural masterpiece, was designed by William H. Breger in the 1960s. The award-winning structure features a distinctive flame shape, a sky-lit sanctuary, an outdoor sculpture plaza, and a large gallery for events.
African Burial Ground is the oldest and largest known excavated burial ground in North America for both free and enslaved Africans. It protects the historic role slavery played in building New York.
The Flea Theater was founded in 1996. The Flea has goals of supporting talented artists and has been the home to established, emerging, and mid-career artists in New York's Off-Off-Broadway scene. The theater presents and produces dozens of new shows a year and has been the recipient of various accolades, such as two OBIE Awards.
ARChive of Contemporary Music is America's largest collection of popular recordings with over 3 million items and counting. As digital platforms thrive, ARC is devoted to the preservation of sound recordings, publications, books, magazines, videos, films, photographs, press kits, newspapers clippings, memorabilia, and ephemera relating to the history of popular music. Visitation is not open to the public but you can make contact through the website to visit, contribute and collaborate.
Culture Now – Museum without Borders three Tribeca Podcasts discussing: River Lofts, Sterling Mason, and Tribeca Hudson River Park. Extra Tribeca Cultural Inspiration Visit My Website
Tribeca Shopping
Tribeca Citizen's paper has a definitive guide to shopping includes global brands—Thom Brown, J. Crew, Issey Miyake, Rag & Bone, Shinola there are a number of independent shops to explore too. Tribeca small independent shops and galleries are worth exploring.
When you are weary from a day of shopping pop into one of the local bakeries: Duane Park Patisserie, Franchette Bakery, Billy's Bakery, Grand Daisy Bakery, La Colombe, Patisserie Chanson, Takahashi, and Maman.
Tribeca Dining
The new year is the perfect excuse to try out the many fabulous dining options in Tribeca. This edition of culturally inclined introduces you to a couple of tried and true go-to's "The Odeon and Tribeca Grill": The Odeon bistro founded over 40 years ago and a haunt for the who's who. Recently HobNob Magazine highlighted that the Odeon's Cosmopolitan is the best in class. Tribeca Grill owned by Rober DeNiro and a mainstay in the area since the '90s. The two new restaurants to join the neighborhood are Tavern on Reade, Icca, and One White Street, and showcased in this month's Culturally Inclined.
New Tribeca Restaurant on the Horizon
A former Joël Robuchon protégé will be leading the kitchen at a new upscale Tribeca spot opening in the spring. For chef and co-owner Mitsunobu Nagae — who has worked at Joël Robuchon restaurants in Tokyo, Paris, and NYC — this will be his first solo restaurant, located at 412 Greenwich Street between Laight and Hubert streets as reported by Devorah Lev-Tov of Eater magazine. The new restaurant L'Abeille, which means bee in French, the name is a reference to Nagae's nickname, Mitsu, which means honey. The concept is a "bistronomy," a phrase coined by a French food critic in 2004 that Nagae and his partners explain as a part bistro and part gastronomy.
Neighborhood Staples in Tribeca
Warburg's Tribeca Office is on Beach Street near so many delectable eateries such as Bubby's for amazing pies, Walkers another neighborhood staple, Frenchette, Terroir Tribeca, and Batard for french cuisine. Tiny's & the Bar Upstairs an 1800's townhouse is a wonderful location for a cocktail in a historic location. A recommendation: the house Negroni, made with Aperol in place of Campari and spiked with orange marmalade. Two doors down from its Michelin-starred sister restaurant, Atera, 20-seat Farra wine bar. On Worth Street, in Tribeca, deep underground beneath the New York Eye and Ear Infirmary and the Michelin-starred restaurant Atera lie Farm.One, Manhattan's largest hydroponic farm. See Atlas Obscura article here.
Favorite Restaurants in Tribeca
Warburg's Tribeca Office is on Beach Street near so many delectable eateries such as Bubby's for amazing pies, Walkers another neighborhood staple, Frenchette, Terroir Tribeca, and Batard for french cuisine. Tiny's & the Bar Upstairs an 1800's townhouse is a wonderful location for a cocktail in a historic location. A recommendation: the house Negroni, made with Aperol in place of Campari and spiked with orange marmalade. Two doors down from its Michelin-starred sister restaurant, Atera, 20-seat Farra wine bar. On Worth Street, in Tribeca, deep underground beneath the New York Eye and Ear Infirmary and the Michelin-starred restaurant Atera lie Farm.One, Manhattan's largest hydroponic farm. See Atlas Obscura article here.
My favorite Tribeca Italian cuisine spots are: Pepolino recognized for their homemade pasta, spinach souffle, and amazing homemade cheesecake. Terra is a cozy spot enjoyed for lunch or dinner. Other tried and true's are: Locanda Verde meaning Green Inn located in the Greenwich Hotel and the drawing room has a working fireplace. Scalini Fedeli for an enchanting European dining experience.
Not to be forgotten, Restaurant Week begins January 18th through February 13th browse restaurants and preview menus. Reach out to me if you would like a local recommendation.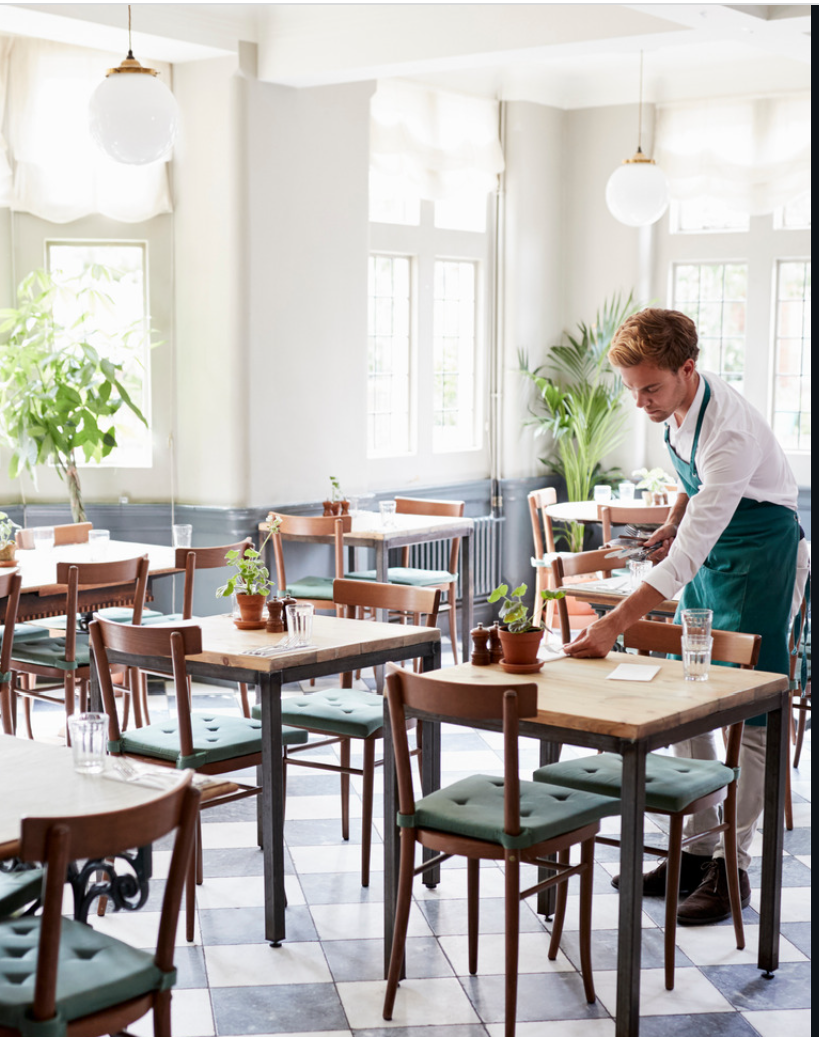 Restaurant Week
Restaurant Week NYC is from January 18th to February 13th. Experience New York's finest dining twice a year without the cost of fine dining. Over 300 restaurants throughout all five boroughs offer a "prix-fixe" specialty menu. This event helps restaurants reach out to new customers and allows us to try new places we usually would not eat at. Reservations open on January 11th. Read More
Broadway Week
Broadway Week is a two-week period and the winter season is January 18th to February 13th. During this time of year when you can get two-for-the-price-of-one tickets to many Broadway shows. Additionally, Broadway Week takes place twice a year, once in late January to early February and again in September. In 2022, Broadway Week takes place from January 18-February 13, 2022. Tickets range from $20 to $175+ for seats to popular shows. Check back on January 11 to browse shows and buy 2-for-1 tickets. Read More
Hotel Week
January 4th to February 13th
Start your 2022 outright with the first-ever Hotel Week. You'll get 22% off stays at a variety of the City's most celebrated hotels, so you can do so much more before check-out time. Take advantage of NYC Winter Outing—a flurry of seasonal offers on dining, attractions, Broadway shows, and more.
Browse accommodations and Book a Room. Read More
Winter Jazzfest
January 13th to February 22nd
Join the infamous music marathon event this winter in downtown Manhattan.
Winter Jazzfest is comprised of over 600 artists on 20 stages over 10 nights. The festival features multiple artists and venues and has become one of New York's most exciting and unique nightlife offerings.

To Learn More about the locations and Line Up. Read More

New York Real Estate's Q4 2021: And Going Into 2022: Can Supply Meet Demand?
Frederick Warburg Peters, CEO of Warburg Realty in New York City: Increasing interest rates will most likely impact the national real estate market more than any other factor during the early months of 2022. Therefore, while there is no reason to anticipate a falling market. An interest rate rise will have a psychological impact in dampening any market exuberance. That, combined with the return of sensible practice to the iBuying market after the spectacular Zillow flameout. Moreover, this should keep prices at current levels in most markets during the first and second quarters.
Omicron Variant
The luxury market may behave somewhat differently. Even with the Omicron variant on everyone's mind. Foreign money has turned again towards the United States. This will help underpin a market already flush with cash from the huge gains in business and the stock markets throughout 2021. These buyers are always less impacted by mortgage rates than the buyers of more modest properties. These buyers will keep this market strong through the foreseeable future, perhaps even showing a little escalation in prices.
The 2021 real estate market took New York by surprise. Once again, those pundits who predicted the demise of the city turned out to be wrong. As 2021 developed into one of the most robust sales and rental years within memory. Excited to share our Q4 2021 Market Report with you. Read More